Rapunzel Creative was recently contracted to do the rebranding of Foundation 58, a New Jersey nonprofit organization that provides financial assistance to first responders and their families who are battling cancer. The rebranding included a new logo, website design for 58Cares.org, print marketing materials, social media, email marketing templates, and the introduction of the charity's expanded programs.
Foundation 58 was founded in memory of Hazleton City, PA Deputy Fire Chief Gabriel A. Mhley, who died from cancer in 2003. The organization provides charitable grants to individuals and families and has broadened its mission with three new programs: cancer preventative gear, equipment, and grants to first response organizations; education/awareness of the physical and mental health issues first responders face (cancer, suicide, addiction, PTSD); and ensuring hydration with donations of bottled water to first responder departments.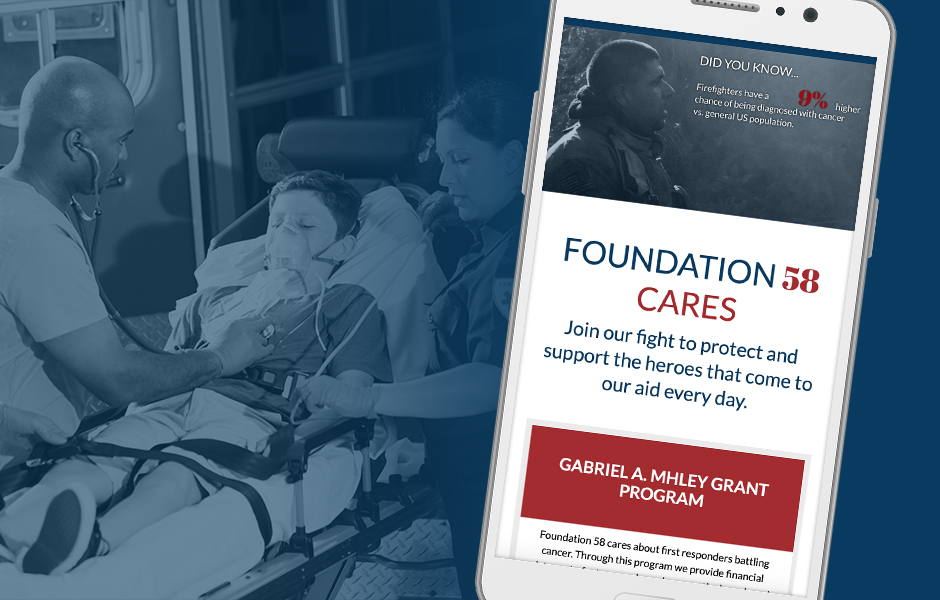 Foundation 58 president and co-founder, Justin Mhley (Gabriel Mhley's son) said that the objectives of the rebranding effort were to update the organization's look, provide greater outreach to its audience and potential donors, share the Foundation 58 story more effectively, and provide a platform to publicize the three new offerings. With the rebranding, the organization also expanded its responder audience to include 911 dispatchers and additional support services.
"These people need our help, the public needs to become more aware of the risks these people take every day, and these service personnel need more education and equipment to safeguard against the hazards of their jobs," said Justin, who founded Foundation 58 in 2005 with his cousin, Kevin Mhley.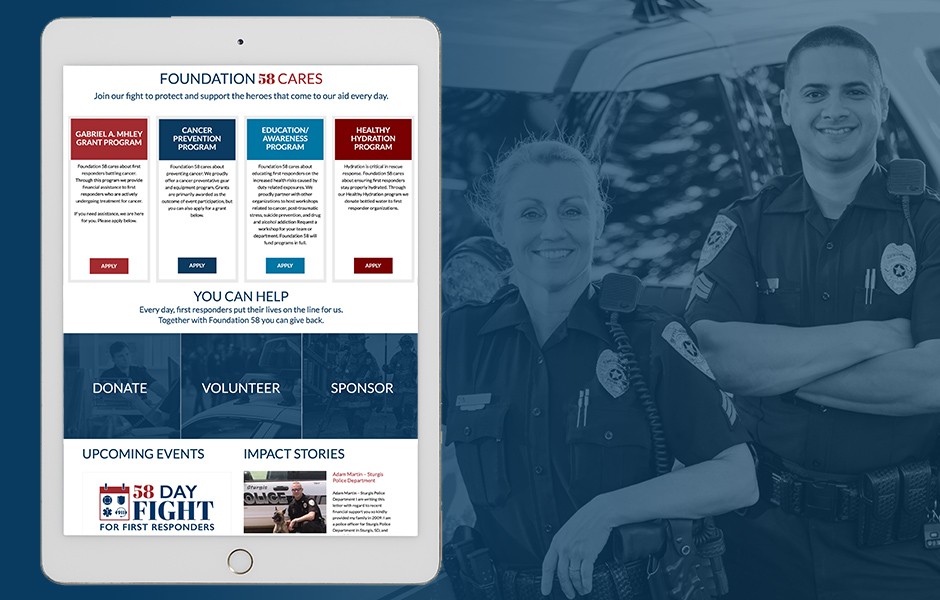 "Firefighters have a 9 percent higher chance of getting a cancer diagnosis than the generation population, and the PTSD rate among EMTs is 20 percent; first responders also suffer a high suicide rate. It was time to bring these compelling statistics to light, and the new website has enabled us to amplify our message and our mission in new ways. Plus, with the addition of the 911 dispatchers to our list of qualifying grant recipients, the new logo immediately telegraphs who we help—for recipients and donors alike."
According to Lynn Gregorski, president and founder of Rapunzel Creative, designing this nonprofit's brand was challenging, since Foundation 58 wanted to represent the full breadth of first responders: fire, police, EMS and dispatch. The new website is for first responders as well as the general public, so the Rapunzel team needed to create branding that's recognizable to first responder organizations and people seeking help. For example, the newly designed logo uses the iconic emblems of each service.
Results
How a Charity Website Makeover is Making a Difference
Nonprofit branding and marketing are often difficult. At Rapunzel Creative, we see many charity brands struggle with creating a unified brand and a clear message about their mission. As charities grow and add services, their websites often become a shopping mall of programs, but important features that will help the charity's operation are difficult to add or not compatible with the current platform.
Foundation 58's original website was built on Weebly and didn't offer any functionality for lead generation, funneling visitors, and capturing donor data. The Rapunzel Creative team rolled up their collective sleeves to tackle the non-profit branding execution and develop a capability-enhanced website on WordPress that effectively explains the mission of Foundation 58.
Rapunzel's objective as a nonprofit marketing agency is to hone the message and make it resonate with the visitor, who, upon hitting the landing page, understands immediately what the organization does, how it helps others, and why visitors should support it or donate.
The story behind Foundation 58 is moving, powerful, and educational but was not brought forward in a compelling fashion before. It is now supported with impactful statistics about the health issues first responders face; those statistics are now a prominent visual element on the website's home page, which gives potential donors immediate understanding of what Foundation 58 does and how they can help support first responders.
The CRM and donation plug-ins make giving easy, enable Foundation 58 to capture donor contact information, and the site has pages about volunteer and sponsorship opportunities as well.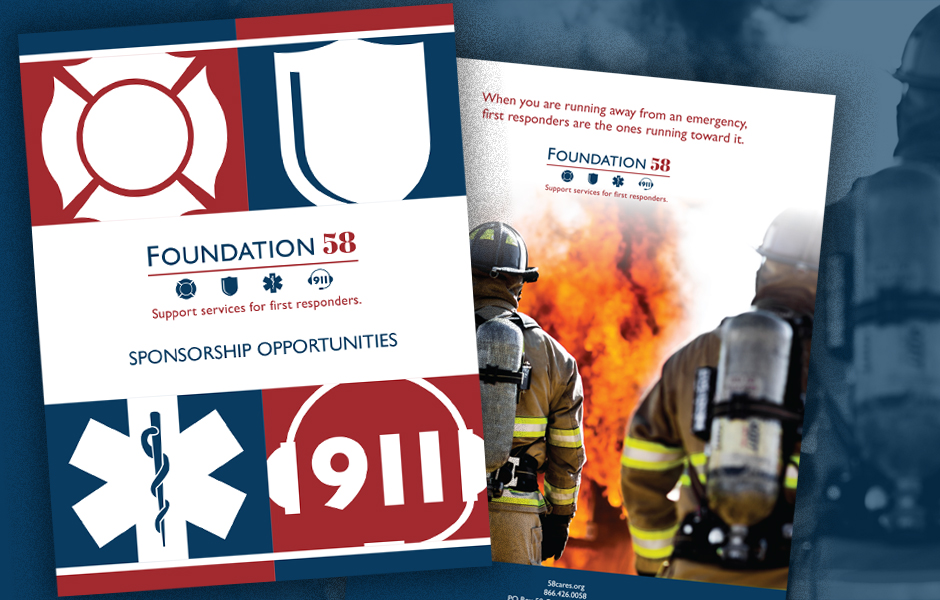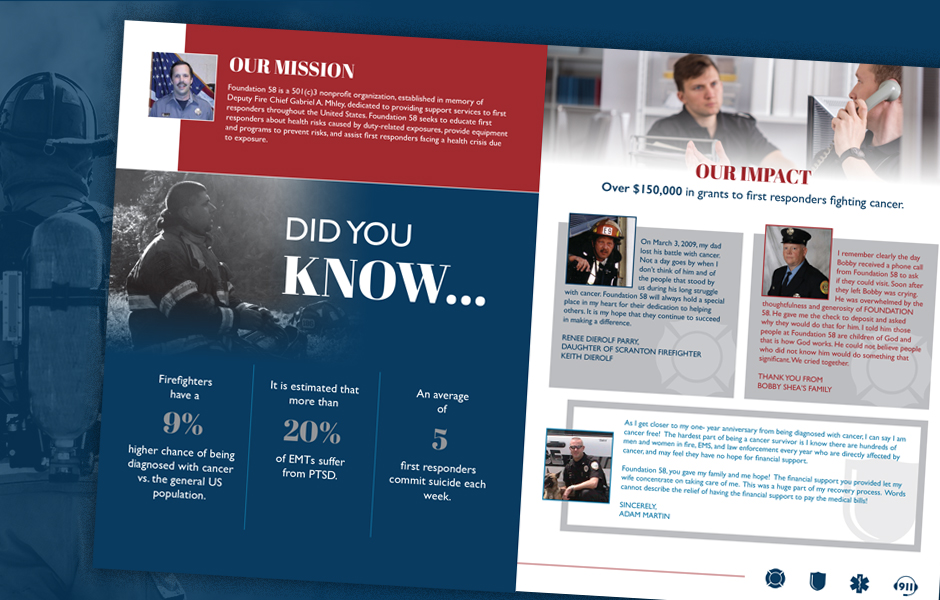 Foundation 58's charitable giving has ramped up greatly in recent years. It granted over $140,000 to first responders and their families since 2015 to help them through their cancer treatment. The new website has also ramped up the organization's visibility, with an increase of 500 monthly page views in the first month of launch.
Rapunzel Creative supports Foundation 58's mission and as part of our nonprofit marketing efforts, our team donated time and materials to the project. Our hope is that our everyday heroes who are struggling with physical or mental health issues or financial burden can find the help they need through this new website.