Search Engine Optimization Services
What the Heck is SEO and How Does it Work?
Here are the answers!  Search engine optimization (SEO) is the process of getting traffic to your website from results on search engines.   There are several types of traffic you can get.  Organic traffic is what most businesses strive for.  It's the process of getting visitors flowing to your site through an online search for specific keywords.  Editorial SEO is traffic that comes through articles and publications about your area of expertise, products or services.  Paid SEO is traffic coming to your site through online advertising.
To build up your SEO there are on-site techniques you apply to the structure, code and content of your website.  There are also off-site strategies you can use to increase traffic coming to your site from other sources.
So, where do you begin?
Let's look at the big picture.  Rapunzel Creative will evaluate your current website's content, structure, code and performance.  We will also take a look at the online marketplace to see how your site ranks against competitors, both organically and through paid ads.  Once we have collected all the data, we will put together an SEO strategy to drive more traffic to your site.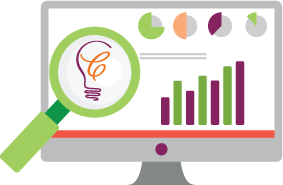 Website Evaluation of Content and Structure

Develop Keyword Rich Content
Inbound and Outbound Links