Project Description
Rapunzel Creative was contracted to rebrand Foundation 58, a nonprofit organization that provides financial assistance to first responders and their families who are battling cancer. The rebranding included a new logo, website design for 58Cares.org, print marketing materials, social media, email marketing templates, and a sponsorship brochure.
The new brand needed to speak to all first responders as well as the general public. The client requested using recognizable symbols for first responder service organizations: police, fire, EMS and dispatch. The newly designed logo uses the iconic emblems of each service area.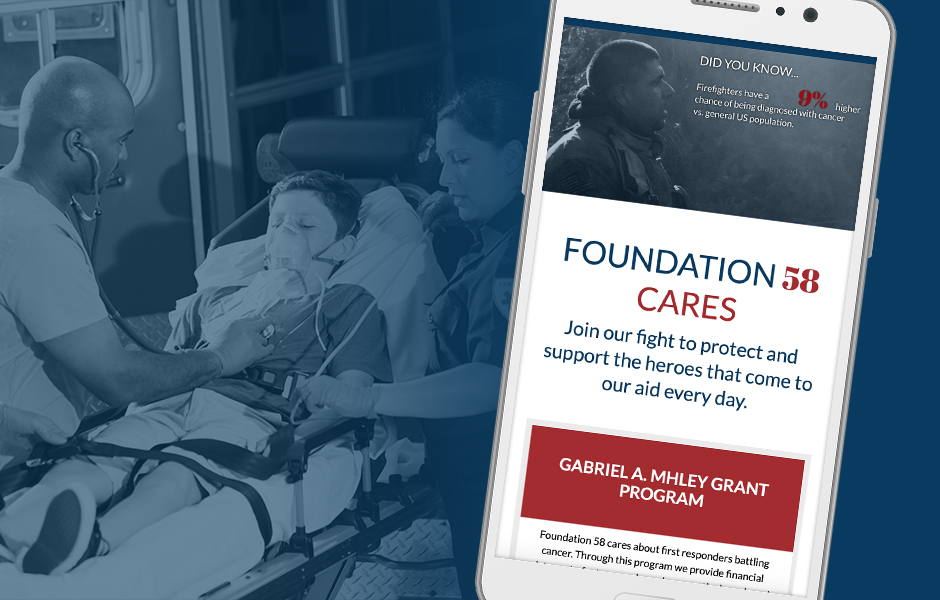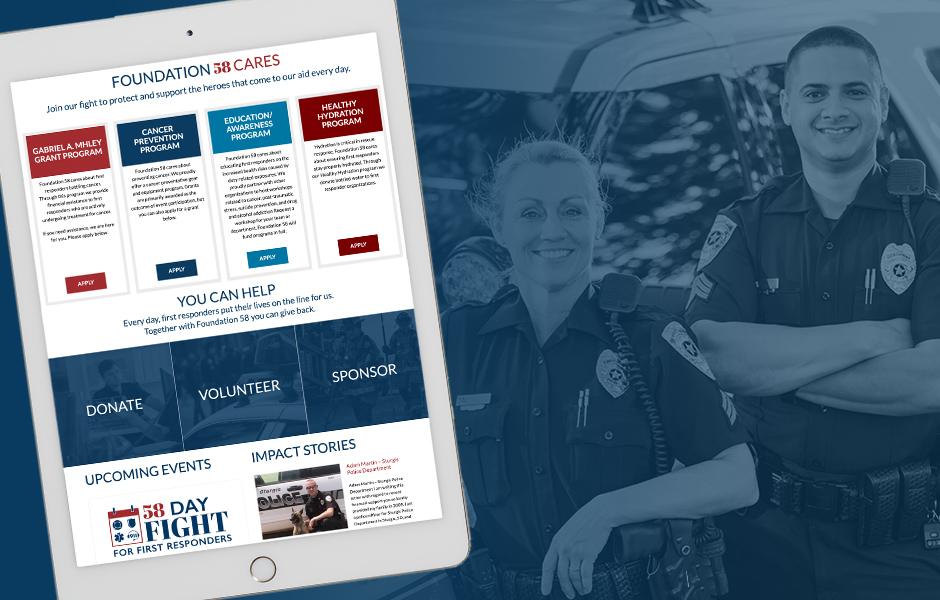 Foundation 58's original website was built on Weebly and didn't offer any functionality for lead generation, funneling visitors, and capturing donor data. The Rapunzel Creative team rolled up their collective sleeves to tackle the non-profit branding execution and develop a capability-enhanced website on WordPress that effectively explains the mission of Foundation 58. Rapunzel's objective as a nonprofit marketing agency is to hone the message and make it resonate with the visitor, who, upon hitting the landing page, understands immediately what the organization does, how it helps others, and why visitors should support it or donate. The new website ramped up the organization's visibility, with an increase of 500 monthly page views in the first month of launch.
The story behind Foundation 58 is moving, powerful, and educational but was not brought forward in a compelling fashion before. It is now supported with impactful statistics about the health issues first responders face; those statistics are now a prominent visual element on the website's home page, which gives potential donors immediate understanding of what Foundation 58 does and how they can help support first responders.
The CRM and donation plug-ins make giving easy, enable Foundation 58 to capture donor contact information, and the site has pages about volunteer and sponsorship opportunities as well.