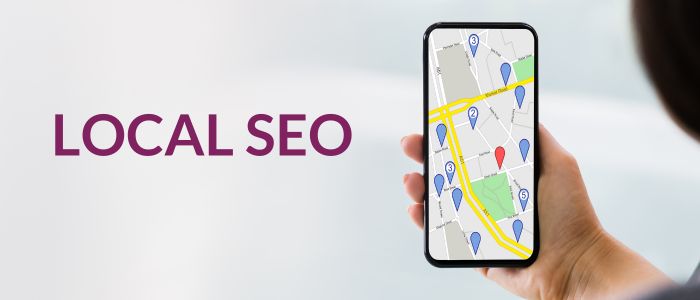 Local SEO: Why Your New York or New Jersey Business Website Needs It
At Rapunzel Creative Marketing, an award-winning marketing, branding and digital advertising agency, we talk a lot about SEO (search engine optimization) with our clients. SEO comprises the ways we optimize websites so they get discovered in the search results, improve websites' rankings, and drive traffic to websites and landing pages.
But as we all know, the internet is vast! So how does a business get found by local folks searching for its goods or services? Through local SEO, a subset of this digital marketing strategy.
What is a local SEO website strategy?
Local SEO is for companies that have a physical location in the users' area or that serve a specific local market, like Bergen County, New Jersey or Westchester County, New York. If you've seen a selection of local businesses show up in a search along with Google maps showing where they are (known as a local pack), you've seen the results of local search engine optimization. In short, the objective of local SEO is to get your business website to rank higher in specific towns, counties, or regions.
Google looks at multiple factors as it scours its Google Index of websites, both on your website and in users' search activity, to determine your website's relevance as a search result. Plus, the way people are searching has changed over the years to include long-tail keywords or phrases as well as including locality in their searches. These factors have made local SEO a vital digital marketing element as search engine marketing evolves.
Local SEO strategies and services connect users to businesses in the immediate area
Location, location, location. Businesses can turn up in the local rankings as well as organic search listings thanks to local SEO.
Users may search for services by the actual location (such as Bergen County, New Jersey, NYC, etc.) or can ask Google to show them businesses "near me." They'll be served results for businesses nearby, based on where they are when they searched online (work, home, on the road).
Top local SEO ranking factors
No one really can know what the minds at Google are thinking at any moment about search rankings and algorithms. But Moz puts out an excellent survey every year that provides insights into the factors affecting a website's local search visibility.
Standard SEO practices dictate that a website has optimized title tags for each page as well as meta descriptions and strong on-page SEO copy that uses keywords (but doesn't stuff them!) and content related to your location. A local phone number and address is also a search algorithm factor. Strong backlinks are also favored.
Google's local search algorithms use relevance, distance, and prominence to help users find the best matches for their queries. The search engine will assess how closely related your Google Business Profile is to the search terms used, how far it thinks your business is from the user, and how important it deems your business is to potential customers.
Some local SEO "signals" that tie into those are:
Local landing pages (by office location for multi-location businesses)
Google map
A listing in Google My Business with business photos, videos, telephone numbers, business hours, delivery area if relevant, and links to reservation services.

Snippets from Google Maps and Google Street View also give potential customers a preview of your location online, so they know what to expect when they show up to pick up merchandise or arrive for that dinner reservation.

Reviews published by local customers
 Benefits of local SEO
Local SEO helps put you in front of more users in your area. For example, according to the 2022 Retail Marketing Guide, searches for "shopping near me" via Google Maps have more than doubled year over year. So you want to be where those users are looking!
Robust local SEO gives you a competitive edge, helping your website to show up in the local pack as well as organic search results.
It makes it easier for more people to find out about your brick-and-mortar location, especially in areas that are more crowded with similar businesses (such as restaurants, hotels, retail, or professional offices).
It also guides potential customers further along the buyer's journey by enabling them to find out more about your business—helping you to become the solution to their problem or search query.
Local SEO from a New Jersey and New York metro digital marketing agency
See what we did there?
If you want to optimize your website and online presence with the latest local SEO tactics, give Rapunzel Creative a call. Wherever your business is located, our team will help boost your local listing visibility with the latest search engine optimization tactics.
About Rapunzel Creative
Rapunzel Creative is an award-winning branding, digital marketing, and advertising agency located in Bergen County, New Jersey, within the New York metro market. Services include business branding, website design, digital marketing (such as social media, SEO, and email marketing) and advertising campaigns. The agency also specializes in nonprofit marketing and branding. Rapunzel Creative is certified by the State of New Jersey as a (WBE) Women Business Enterprise, is a WBENC certified organization, and is a certified SBA and WOSB and approved contractor with the Port Authority of New York and New Jersey.