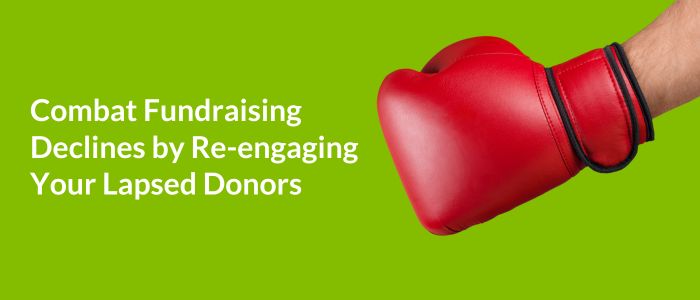 Combat Fundraising Declines by Re-engaging Your Lapsed Donors
Disappointing fundraising results are in for 2022. The total number of donors in the U.S. again declined, as it had in five out of the past seven quarters. And, for the first time in the last decade, total charitable donations also decreased. In fact, Giving USA reported one of the steepest dollar reductions on record — a 10.5 percent annual drop after inflation. International charities were the only type of cause that beat inflation, in part because of humanitarian crises like the war in Ukraine.
This falloff in charitable giving has a real impact on the nonprofit sector. Without these funds and donors, organizations are not able to fulfill their missions and provide needed services. In the short term, economic uncertainty caused by inflation and large stock market drops reduce giving levels. However, concerning long-term societal trends are also in play, including:
diminishing trust in institutions;
absence of empathy for others not like ourselves;
frustration with sluggish outcomes to challenging social problems; and
the inability of many nonprofits to maintain trust and strong connections with their donors.
In this article, we examine why some donors stay loyal to your cause while many others do not, and what you can do to stem this departing tide.
Stop Churning Donors
Many nonprofit leaders feel they must constantly find new donors in order to raise more revenue, both for their programs and to replace lapsed donors (more than half of the average annual donor base!). However, putting emphasis on pursuing new donors is a disservice to  those you already have and it is a costly practice compared to keeping those already invested. According to The Nonprofit Times, the cost of acquiring a new donor is five times more expensive than retaining an existing one. So let's stop this donor churn!
NOTE: Active donors are those whose last donation was made in the past 18 months. A lapsed donor has not donated in the past 18-36 months. Donors who gave three or more years ago are no longer warm connections and should be returned to the acquisition funnel as prospective donors.
Why Donors Choose to Leave
Donors are not automatic teller machines that you go to when you need money. They are investors in your mission. They want to be part of the solution that you're working to create. Therefore, a few primary reasons donors lose interest include:
1. Inattention to Donor Needs
People want to make a difference with their donations and receive feedback showing where their money is going. However, too many donors barely hear from organizations once the contributions are made and become frustrated by the lack of communication from the nonprofits they support. This donor inattention results in many charities losing out on future gifts.
Charities need to put far more effort into communicating with their supporters. To be sure, pandemic turnover and staffing shortages make proactive communications far more challenging, but nonprofits have little chance of keeping their current donors without prioritizing meaningful contact.
2. Impression that Only Rich People Give
The Better Business Bureau's Give.org reports that nearly half of those who stopped giving to a charity over the past five years said they did so because they thought wealthier people could afford to give more — and should. Nonprofits must show people of more modest means that their gifts matter.
3. Donor Fatigue is Real
Usually, fatigue occurs when donors feel like they're being treated like an ATM,  constantly solicited without being appreciated as a vital component of your mission. Find ways to reset the relationship and recognize donor fatigue before a donor stops giving.
Keep Donors Engaged Before They Leave
Professor Theodore C. Wagenaar of Miami University writes that if "organizations want to maintain relationships with their donors and encourage further gifts, they need to listen, ask questions, and respond to donors' needs." Below are some ideas that can help you keep donors before they leave.
Always start by giving meaningful thank-yous promptly to demonstrate that your donor's involvement matters to you.
Do not mix messages by including another gift request in the thank-you, which can make donors feel they did not give enough and are not fully appreciated. A good rule of thumb is to thank your donor at least 5-7 times before making another gift request. Otherwise, you risk turning them into ATMs.
Your actions must align with what the donor cares about. Be transparent about how their donations were used. Share immediate plans for where it will be spent and the impact that it has.
Barbara W. Auten, head of Alzheimer's Services of the Capital Area in Louisiana, noted that she always writes personal notes to donors that spell out how their gift contributed to the organization's mission. "Donors tell me that's why they give: because they hear or read what their gift is doing."
Recognize that potential major donors use smaller gifts to test how you will treat them before they make larger investments. Keep in touch with all of your smaller donors, which also broadens your base of support. Create ways to keep them engaged, such as inviting them to your office to meet staff and clients. Even if they don't donate for a year or two, keep sending updates about the impact of their investment.
Focus on the long game. Develop key performance metrics that reflect the donor's lifetime value and commitment.
Make Donor Re-engagement a Priority
The sooner you re-engage a lapsed donor, the more likely you can win them back. And a re-engaged donor is more likely to donate than a new prospect, since they already believe in your charity's mission and have a history with your organization. They are more likely to continue to support it if they are reminded of why they were passionate about it in the first place.
Re-engaging lapsed donors can provide valuable feedback about what the organization can do better to retain supporters. Reach out and listen to their feedback and address any concerns, which will strengthen the relationship. In your renewal strategy:
Monitor your expiration dates carefully and establish a renewal/reactivation plan that begins a few months before a donor's renewal date. A series of letters, well-timed phone contacts, and email reminders all work well.
Use a multi-channel approach to re-engage lapsed donors. Think beyond the appeal letter, such as a personal phone call, and take advantage of paid media, social media, and email.
In-person meetings offer an opportunity to personally connect with the lapsed donor and reinforce why they supported you in the past and why they should continue.
Catch lapsed donors' attention  by sending them something new and different in their mailbox. If your appeals look similar from one campaign to the next, it is time to get creative!
Explain what still needs to be done, how you will use their gift to make a difference, and the consequences of not giving. Write about your success stories and show how your nonprofit organization maximizes donations.
Invite lapsed donors to a free event where they can hear an update about your work. Or offer volunteer opportunities in your office or at a  fundraising event.
Offer an incentive for them to come back – free tickets to a local event, recognition on your website and in your literature, or a deeper discount on your member benefits.
Finally, understand that all lapsed donors are not the same, and know when to let go. Some are simply not going to give another gift to your nonprofit. It becomes expensive and disrespectful to keep targeting a lapsed donor who intended to be a one-time donor or appears to have moved on.
Rapunzel Creative is Here to Help You
Re-engaging past donors is an opportunity for your nonprofit organization to reconnect and strengthen your relationships. Rapunzel Creative can help you to develop an effective re-engagement strategy, using an effective set of communications tools. Contact us for a conversation and let's reverse donor churn together!
About Rapunzel Creative
Rapunzel Creative is an award-winning branding, digital marketing, and advertising agency located in Bergen County, New Jersey, within the New York metro market. Services include business branding, website design, digital marketing (such as social media, SEO, and email marketing) and advertising campaigns. The agency also specializes in nonprofit marketing and branding. Rapunzel Creative is certified by the State of New Jersey as a (WBE) Women Business Enterprise, is a WBENC certified organization, and is a certified SBA and WOSB and approved contractor with the Port Authority of New York and New Jersey.