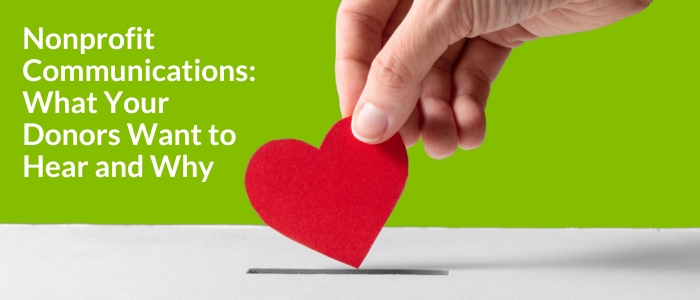 Nonprofit Communications: What Your Donors Want to Hear and Why
A guru in the field of donor communications, Tom Ahern, says that nonprofit messaging has just three simple, yet impactful, duties:
    To ask for your donors' help;
    To thank them in meaningful ways for that help; and,
    To report what you accomplished with their philanthropy.
While this seems simple enough, the devil is in the details. For instance, people tend to have gut reactions and make judgments about what they see in three seconds or less, so your messages only have a small window of time in which to gain your audience's attention. Plus, social media and internet scrolling have shortened many people's attention spans. Therefore, your communications first must convince the donor to give you their full attention and interest.
Seth Godin, author and marketing strategist says, "If communications are irrelevant, untrusted, unwelcome, or selfish, then they are perceived as NOISE." If you create noise, then you will be ignored. Instead, be inspiring and grateful for your donor heroes.
Nonprofit Donors Are Your Heroes
Viktor Frankl, the renowned concentration camp survivor and psychologist, famously wrote, "Humans are driven by a will to establish meaning in their lives. They need purpose."
In the nonprofit world, people give because they want to FEEL a certain way. Therefore, the first job in nonprofit communications is to bestow a sense of purpose upon donors in exchange for their support. You need to make them feel good—proud, important, and fulfilled—by sustaining your mission. Fundamentally, messaging should speak to your donors' aspirations, who they wish to be. Donors need to feel they are necessary to your mission. Let them know they are your heroes making a difference.
Several trends in nonprofit communications can help to improve this emotional impact:
Personalization – Focus on personalized communication to donors. Create content that resonates with each donor or segmented group, based on their giving history, interests, and behaviors.
Transparency – To sustain donor trust and confidence, always be transparent about your finances and operations. Keep your donors honestly informed about the status and progress of your nonprofit.
Digital-First Strategy – People are spending more time online; shift communications to digital-first channels to reach donors where they are.
Multiple Channels – Expand communication channels beyond email to social media, text messaging, and chatbots to ensure that you are reaching donors in the ways they prefer.
Storytelling – Leverage your organization's unique stories to help donors connect with your mission and impact.
Donor-centric Approach – Shift your primary communications focus from fundraising to donor engagement and relationship-building. Put donors at the center of your mission and make them feel and understand they are critical to your nonprofit.
Let's focus on the last two points, as they are the most critical to your communications success.
Donors Are Vital In Your Nonprofit's Stories
People come fully equipped with their own values, belief systems, passions, regrets, hopes, and connections. And all donors seek to change the world in ways that align with their passions and interests. The best communications make your donors—not your organization—the heroes of your stories.
Let donors know why they are indispensable—and why their ongoing investments are necessary for changing the world. For example, "You helped Amanda beat five different cancers before age 30" paints the donor as the hero at the center of an inspiring story. Always remember, the main reason donors give less, or simply go away, is because you are not making them feel they are your heroes.
Make sure your words and pictures tap into hope and positive emotions, rather than guilt or negative feelings. Avoid describing your organization as the "fixer" of problems and instead highlight the opportunities created through your donors' involvement.
Create Donor-centric Communications
Notice the emotional difference between "your donation counts" and "you count." Certainly, the second phrase is more personal and powerful. Despite advice that flattery will get you nowhere, neuroscience indicates that it remains a powerful response. And flattery is still appreciated by donors, especially if it is sincere.
As humans, we know what interests us the most is … ourselves! Donors will never tire of hearing how important they are to your nonprofit organization's sustenance and success. Simply by using the word "you" instead of "us" can be a form of flattery. Speak to the heart more directly and put the donor in the story. Instead of "thank you for your support" or  "Thank you for your gift to our organization so we can change the world" try "Thank you for changing this child's life," which emphasizes the donor's heroic impact.
Let's Talk About Your Nonprofit Communications
Do all of your constituent messages leverage the idea that donors are your heroes? We know that, in order to be truly engaged, donors must feel they are critical to the change they want to see in the world. Rapunzel Creative can help you achieve this important communications goal with a thorough audit of your communications process, including targeted constituent groups, distribution channels, and messaging. Let's talk! You can schedule a consultation here.
About Rapunzel Creative
Rapunzel Creative is an award-winning branding, digital marketing, and advertising agency located in Bergen County, New Jersey, within the New York metro market. Services include business branding, website design, digital marketing (such as social media, SEO, and email marketing) and advertising campaigns. The agency also specializes in nonprofit marketing and branding. Rapunzel Creative is certified by the State of New Jersey as a (WBE) Women Business Enterprise, is a WBENC certified organization, and is a certified SBA and WOSB and approved contractor with the Port Authority of New York and New Jersey.