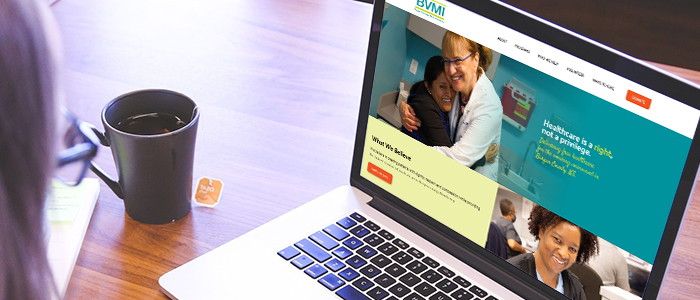 2023 Nonprofit Website Design Trends & Best Practices
As we noted last year, website design trends for the for-profit world differ from the best website design practices for nonprofits. And just as digital marketing evolves, so too does website design. The bottom line for nonprofit organization websites: engage visitors with their mission and build a donor base.
Creating a nonprofit website that is user-friendly, mobile-optimized, secure, and easy to navigate are enduring best practices. Beyond those vital basics, Rapunzel Creative offers these trends and best practices for nonprofit website design in 2023.
Best practice (always): review and refresh website design and messaging
If it's been a few years since you launched your website, take a fresh look at it. Your site may have been built on an outmoded platform, or no longer looks contemporary. Review your written content as well to make sure it serves your current mission and that it's still on brand. According to a survey conducted last spring among 471 nonprofits, 26% rebranded since 2020 and of these, nearly half (47%) saw their revenue increase.
Uncluttered homepage, full-size hero
That hero image at the top of the page is your billboard that draws in users with a strong image and a clear, simple headline. Below that, design an organized page that lets visitors know quickly that they got to the right website, with information pertinent to their search.
Simple navigation
Don't bury your story or make it hard to discover. Keep your main navigation "top line" with key categories that are intuitive and user-friendly. Streamline the number of dropdown pages and use valuable internal links to direct users and avoid on-page overwhelm.
Minimalist design
Give your content figurative breathing room with white space around sparse photos. We recommend you use one or two compelling images per page. For written content, use subheads and short paragraphs to focus visitors' attention. The site will also load more quickly, always a bonus for users (and your SEO).
Bold, adjacent calls to action
You've engaged site visitors with your story and compelling examples of how your organization helps others. Now make it easy for visitors to sign up for your newsletter, find out about volunteer opportunities, donate needed goods from a wish list, or make a monetary contribution.
We recommend placing "Donate" and "Learn More" buttons in several places throughout your nonprofit website. Start with the header and work your way down the appropriate pages. In addition, an easy-to-find, easy-to-fill contact form helps nurture donor leads and build your database.
Custom graphics and/or real people
Wherever possible, use real people to tell your nonprofit's story and create an authentic experience. Custom infographics and artwork also help illustrate your case studies and reflect the communities you serve.
Purposeful video
Tell real stories by staff and clients, explain how your donation dollars are used, or showcase a new service or community with video that drives interest and support, thanks to clear intention.
Organic shapes
Organic shapes are like what we find in nature—rolling hills, winding rivers, and asymmetrical shorelines. Use these to break up sections, provide visual interest, or direct the eye to copy.
Accessible and inclusive
Nonprofits serve a broad range of users; their websites must be accessible to people with vision, hearing, or mobility impairments. A professional website developer can add compliance features to your website to make it more inclusive for all visitors and provide a better user experience. Strong color contrasts between page text and backgrounds, functional image alt tags, and focus indicators around links and other elements are just a few examples.
Promote nonprofit events without creating a homepage traffic jam
Of course, your major fundraising events or donation drives are critical to your nonprofit's success. However, there are ways to incorporate event promotions into the website design without bogging down the homepage.
According to Lynn Gregorski, president of Rapunzel Creative, "Many nonprofit sites scroll their events across the top of the homepage. This often creates a jarring visual effect because this isn't cohesive with the rest of the page design. Plus, this information might not be of high value to everyone as the first visitor touchpoint. Keep content at the top of the page for more general interest, and promote events in a more organic way."
Rapunzel Creative's website designers will ensure the information is clearly displayed in a format aligned with the website design. We also recommend creating a distinct events page that links from the homepage, where interested parties can get more information or register.
Keep content relevant
Has your nonprofit website become a parking lot for outdated material that no longer serves your goals?
"We see a lot of nonprofits with hundreds of blog articles, old events, press releases, and other content that really isn't indexing or adding value to the site for the user or for search engines," says Lynn. "I recommend you do a website assessment every year and delete, delete, delete! Keep content that adds value and interest."
Statistics to make your case
Statistics are a great tool for showing the need, for how your nonprofit solves problems, and for conveying your mission. We often use counters that show the number of people served, the dollar amount of donations made, or other pertinent statistics that provide the proof many donors like to see.
Social media links
Digital marketing provides many opportunities for people to engage with your nonprofit organization. Add obvious social media icons to enhance engagement where your prospective donors and supporters may spend part of their day already.
Have an SSL certificate in place
The SSL (secure sockets layer) certificate lets visitors know your site is more secure. It encrypts transmitted data and authenticates your website's identity between devices. If you're trying to encourage donations, you really want that SSL certificate bought or renewed.
Looking ahead
A well-designed nonprofit website guides site visitors to the information they need in order to understand why the organization is worthy of support, and inspires users to take action—as a volunteer, corporate sponsor, or individual donor. If your nonprofit website is due for a fresh design and updated branding, Rapunzel Creative is here to help. Contact us for a free website evaluation and consultation to build your market presence, generate new leads, and foster stronger relationships with donors and communities.
About Rapunzel Creative
Rapunzel Creative is an award-winning branding, digital marketing, and advertising agency located in Bergen County, New Jersey, within the New York metro market. Services include business branding, website design, digital marketing (such as social media, SEO, and email marketing) and advertising campaigns. The agency also specializes in nonprofit marketing and branding. Rapunzel Creative is certified by the State of New Jersey as a (WBE) Women Business Enterprise, is a WBENC certified organization, and is a certified SBA and WOSB and approved contractor with the Port Authority of New York and New Jersey.