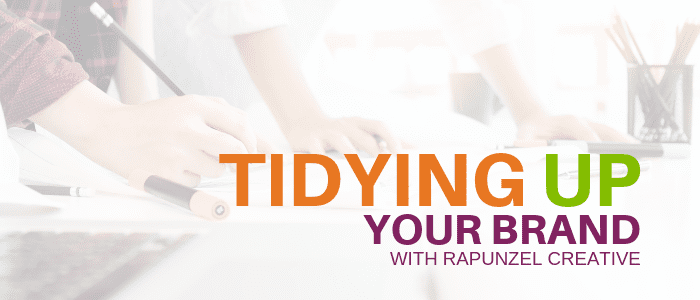 How to Audit Your Corporate Brand Identity
Hit sensation and organizing consultant Marie Kondo has got many of us neatly stacking pants and tops, reusing paper boxes for storage, and thanking our homes and belongings for serving us. It's all part of a journey towards mindful living, peace, and fulfillment.
As a brand marketer, watching the show got me thinking: Wouldn't it be great if there was a way to organize everything corporate brands want to keep and say goodbye (with a thank you) to all the materials that no longer "spark joy" for our brand? You know—tidy up the brand, Kondo style.
Well, there is and it's called a brand audit. Just as Kondo makes homeowners take every shirt out of the closet and stack it on the bed until they have a giant pile of unused ones and favorites, Rapunzel Creative does the same as part of a brand audit and brand refresh. In a sense, we tidy up a brand's marketing materials and activities by saying goodbye to what no longer serves, and creating space for those that speak to the heart of your message—and to your audience today.
How a Brand Audit Works
A brand audit is an extensive review of current promotional materials about your brand and your online brand image:
All marketing collateral (from brochures to in-store signage, point-of-sale materials to trade show handouts)
Advertising, product and service campaigns
Public relations
Content marketing
Electronic presentations
Brand and design resources
Brand voice, positioning and value proposition
All external branding components such as the logo and trademarks, photography, image direction and style guides.
Digital brand audit: All digital assets—website, email marketing, video, content marketing, SEO and social media
In short, everything you do to market your brand is reviewed to see if all elements are still in step with corporate growth and direction.
Does your corporation need a brand audit?



Many companies that we work with come to us with a brand that has evolved over the years and sometimes has gone in many different directions—and along the way, that branding has become, well, untidy. Often we see inconsistencies that can range from different font types and brand design to misuse of the logo. This can happen when companies are looking to put out materials very quickly or multiple departments are producing materials without one central professional or department overseeing and auditing what goes out, whether B2B or B2C. That's where we can help.
Rapunzel's brand refresh services are similar to what Marie Kondo does. We determine what is useful and therefore, what corporations should keep, and what needs to go. We refresh your brand style guide and provide direction for updating or redesigning existing materials so everything is consistent and ideal for where your company, product or service is today—with a clear visual brand look and messaging.
If your collection of marketing collateral, digital media and presentations are not sparking joy for you… if you look at them and think, "UGH, that needs to be fixed," give us a call at 877-709-3456 for a complimentary assessment. We can provide a clear plan of attack with a timeline and calendar, and we can help get the work done with our talented in-house team of designers, writers and web developers. By cleaning up your brand in this way, you'll end up with a more mindful marketing direction and as Kondo says, you can experience "the life-changing magic of tidying up."