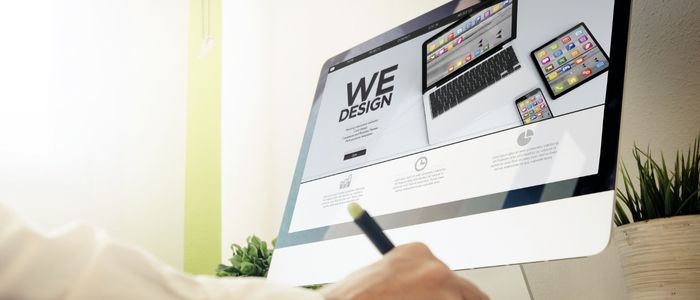 The Best Strategies for Corporate Website Design and Brand Messaging for 2023
Companies, business owners, marketing directors, and brand managers—take note. With the new year comes new strategies for website design and brand messaging.
As we often say, your website is the hub from which your digital marketing spokes extend. Your website serves as your central online presence, but it must evolve along with digital marketing trends (which are always changing). We're not advocating for implementing a shiny new object that won't last past 2023. But there are always updates to website design and organization to consider and tactics to attract new site visitors.
Here are some top website design and brand messaging strategies to get your company website (and brand) to stand out in 2023.
Corporate website branding basics
Website messaging
Your corporate website should reflect your brand voice and have clear brand messaging. In other words, your website branding—aside from the visuals—should give your audience a clear understanding of your "why and "what."
Is your messaging delivered in your brand voice? For example, do your website copy and design convey formality, fun, authority, helpfulness, or other attributes that you want associated with your brand?
Can people readily find the services you provide or products you make and/or sell? What need or gap do you fill? Make it clear. Simplicity never goes out of style.
Why did you get into the market or vertical? Share that story. Storytelling captures hearts and minds.
In 2023, refresh your corporate website to incorporate:
Geometric shapes that are recognizable and bold
Vivid color palettes that attract the eye (and help the type stand out)
Plenty of white space (keep out the clutter)
Responsive design for mobile devices (not a trend—a must!)
Adaptable logos that also adjust to different platforms
Images that reflect diversity and inclusion
Homepage design
In 2023, you may want to refresh your website to improve the user experience. We recommend paying special attention to the homepage design. It must be well organized and "clean."
Many business owners and digital marketing agencies use WordPress or similar platforms and their templates to design a business website. If you use these products, make sure you customize your chosen template to organize your navigation and elements in a user-friendly, brand-supporting fashion.
A website update in 2023 may mean omitting or adding pages, breaking long pages into dropdowns, and reorganizing the homepage content.
Why homepage organization?
This is usually the first place visitors land when they are checking out your products or services. It's nothing new to have a website that's easy to navigate but we still see nonprofit or corporate websites that are jumbled, with crowded homepages that make it difficult to learn more, buy something, or donate. The offline world is cluttered enough; keep your digital world streamlined and clean, with plenty of white space!
Make sure your homepage content tells them they got to the right place (messaging—and enough of it—with visuals that support your brand promise).
The website design and layout must lead users easily to where they want to go.
You don't have to say it all on one page! Link to other areas of the website where visitors can read more about that product or service.
Use authentic website images
Stock photography has its place and often fills the image need. But wherever possible, stock photos are out and "real people" are in. So are custom illustrations. They are more authentic to your brand and give website visitors a more personalized view of your company. And those images are uniquely yours—not that same middle-aged physically fit guy sailing the boat (you know what we mean!).
Three-dimensional renderings are predicted to also have their moment in 2023, especially with enhanced coding capabilities to add a layer of depth to flat images.
Video is a here-to-stay element of website design. Short videos on the homepage or other pages are a great way to keep the site fresh and get out your message.
Think widescreen when it comes to your hero image and headline. Full-page headers are your brand's online billboard for 2023 web design. Add call-to-action buttons up there (Contact, Donate, Learn More) in the top left where readers' attention goes first.
Optimize, optimize, optimize!
Search engine optimization (SEO) is the name of the search marketing game. Your written content must a) promote what you do to consumers and b) tell the search engines the content is relevant to the user's search. Do your keyword research to discover which terms to use on website pages and your company blog. Better yet, hire an SEO copywriter and an SEO practitioner to produce polished written content that's properly optimized.
Make sure your images are also optimized with alt text.
By the way, SEO work is never done; this is an ongoing practice to help keep your company website in front of your audience.
Other website design trends to help your brand stand out
Have you seen playful cursors? These are different animated cursors that appear over text, depending on the content they point to—or to illustrate something about the website content in general, or have visual effects. Talking about a mountain range? Have the cursor display a mountain. You can animate them to roll across the tabs, or have them light up or trigger sounds. Give your website visitors some fun during their visit
In the first decade of the 21st century, user experience became increasingly important. Hand in hand with that is your site's user interface. In 2023, make it as intuitive and inclusive as possible to engage ALL users. That means incorporating voice-enabled interfaces (speech recognition), image captions and video transcriptions, reducing distracting elements (as noted above), and choosing typefaces and font sizes that are easy to read.
Contact Rapunzel Creative to discuss your website and branding
If your company needs a new website for 2023, or you want to freshen up your corporate branding, contact Rapunzel Creative to discuss how we can help you boost your corporate online presence through a properly branded, optimized website.
About Rapunzel Creative
Rapunzel Creative is an award-winning branding, digital marketing, and advertising agency located in Bergen County, New Jersey, within the New York metro market. Services include business branding, website design, digital marketing (such as social media, SEO, and email marketing) and advertising campaigns. The agency also specializes in nonprofit marketing and branding. Rapunzel Creative is certified by the State of New Jersey as a (WBE) Women Business Enterprise, is a WBENC certified organization, and is a certified SBA and WOSB and approved contractor with the Port Authority of New York and New Jersey.