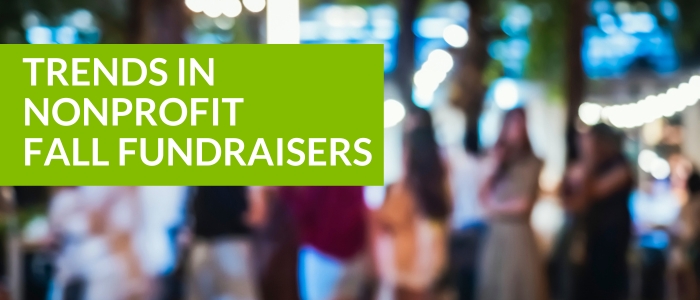 Strategies for a Successful Nonprofit Fall Fundraiser
Although the business of nonprofit fundraising is a year-round endeavor, in-person fall fundraisers are a vital way for nonprofits to meet their budgeted donation goals. In this article, we share some trends and tips for planning and hosting a successful in-person, nonprofit fall fundraiser.
The appeal of nonprofit in-person fall fundraisers
Scheduling an in-person fall fundraiser puts the heat of summer behind us. Plus, it usually means less competition for supporters' attention that occurs in the spring due to major school activities (proms, concerts, graduations) and myriad golf outings, summer vacations, or the traditional wedding season.
In the New York/New Jersey metro area, where we are located, the fall season also opens up possibilities for outdoor or indoor/outdoor events and interesting settings. For example, consider having the cocktail hour on the venue's patio and dinner with music indoors in the banquet space. Or hold the silent auction indoors with an adjacent tented setup for the rest of the event. If you are hosting a fully outdoor event in a botanical garden, a historic site with beautiful grounds, or at the beach, it's easy to create a festival atmosphere by bringing in food trucks and games to expand catering and activities.
This type of in-person hybrid arrangement also provides a broader range of photography backdrops.
The other hybrid fundraiser
Post-pandemic, we also think of "hybrid" as a combination of in-person and remote attendance. This model provides more opportunities for attendance for people who live a far distance, cannot attend the full event, or are reluctant to attend in person but want to support your nonprofit. Offer virtual tickets for a live stream to bring in more attendees and donations, and interactive content to engage your virtual attendees and connect them with in-person attendees.
NOTE: Make sure your A/V equipment is up to the task, tested before the event, and that backup equipment is available.
Nonprofit fundraiser communications: print, digital, or both? Yes!
Nonprofits have relied historically on print invitations to fundraisers. However, in the digital age, these may be scaled back by using a mix of print and digital communications.
Email invitations
Save trees and printing and postage costs by mailing hard-copy invitations to a select group of invitees and using email to send invitations to the bulk of their fundraiser lists.
Digital programs
A trend we're seeing is nonprofits choosing to go digital for the programs/ad journals and silent auction materials with online links.These digital materials can be accessed online with a QR code or email link. However, not everyone wants to receive or view these on a mobile device, so be sure to have some printed event materials available.
Event planning platforms
Shannon Schmitt, community engagement director of Write on Sports, says that nonprofits are also looking to save time and streamline the event coordination with an online, all-in-one event planner rather than deal with all event aspects on a piecemeal basis. These platforms can handle online ticketing and registration, host the auction, and more. Attendees can keep a credit card on file when they purchase tickets, which can be used at the event as contactless payment for the auction or other raffle or add-ons.
Social media
Social media has also been playing a larger role in nonprofit fall fundraisers (and spring events). From event invitations and announcements to posts that promote your nonprofit's mission, we recommend harnessing the power of social media to reach a wider audience to capture the attention of current and prospective donors as they scroll through their feeds. If the event is honoring someone with a strong following, their social media presence is another powerful promotion channel.
Julie Sadowski of the Rockland Community Foundation notes that Facebook fundraisers and crowdfunding through social media platforms have yielded good results for her nonprofit organization.
"It is easy and engages people of all philanthropic levels. A $25 gift on Facebook won't break the bank and people enjoy receiving acknowledgments through thank-you posts that others can see. It is a feel-good moment for donors to be tagged 'publicly.'"
Tips for creating a successful nonprofit fundraiser
Providing donor experiences creates a lot of buzz and incorporates more fun into your fall fundraiser. Creating an experience may be about a unique venue, such as a museum, art gallery, winery, or historic landmark. Or it could be a theme that invites attendees to dress in costume or interact with a theme-related environment (think Monte Carlo casino, Art Deco "grand hotel," or superheroes).
It may also be about offering unique interactive experiences or exclusive activities with celebrities, such as:
A cooking demonstration by the venue's chef, or a cook-off between several noted chefs
Wine tasting and a lesson in food/wine pairings by a sommelier
The chance to record a song live
Fashion show by an up-and-coming designer
Trivia tournament led by a popular TV or radio celebrity
Art lesson by a noted artist
Author event with a book signing
Private concert with a recording artist
Julie Sadowski adds that "Smaller, boutique-style events have been successful and allow people to interact with one another and share positive experiences about the nonprofit. This has proven to be very successful."
NOTE: As your team gathers silent auction donations, look for merchants that can provide VIP experiences as well, to encourage higher bidding on those items. These may be private tours, exclusive celebrity meet & greets, seats at a big-ticket show with a chance to meet performers, or unusual experiences around the world.
Building attendance for your nonprofit in-person event
Selecting and promoting honorees is a sure way to bring in donor dollars and attendees to your fundraising event, as honorees will invite their network to attend and/or place a journal ad. Organizations often hold trustees accountable for filling a table by inviting friends, colleagues, and family members. As mentioned above, consider a remote option for those who cannot be there in person but are available to attend online. Providing a special experience can encourage attendance as well.
Nonprofits in the commuter-heavy NY/NJ metro area are well-advised to select venues that are easily accessible, such as a waterfront location near a ferry stop or somewhere close to a train station. Make it convenient for them to get there!Showcase your nonprofit's mission
We often advise our nonprofit clients to include compelling stories about how donor support helps fulfill the mission—in their year-end appeal, on the website, or in other marketing materials. Having some of your organization's beneficiaries at the fall fundraiser—sharing their personal stories about how your nonprofit has made a difference in their lives—is an authentic, impactful way to show what your nonprofit does, whom it serves, and makes a live, firsthand case for support.
Resources for your nonprofit fall fundraiser team
Rapunzel Creative helps nonprofit organizations create high-impact invitations and marketing materials for fundraising events as well as year-end appeals. We'd be honored to help your team attract high donor response this fall—or any time throughout the year. If you'd like us to review how you are planning to promote your fall fundraiser, use this link to set up a consultation.
About Rapunzel Creative
Rapunzel Creative is an award-winning branding, digital marketing, and advertising agency located in Bergen County, New Jersey, within the New York metro market. Services include business branding, website design, digital marketing (such as social media, SEO, and email marketing) and advertising campaigns. The agency also specializes in nonprofit marketing and branding. Rapunzel Creative is certified by the State of New Jersey as a (WBE) Women Business Enterprise, is a WBENC certified organization, and is a certified SBA and WOSB and approved contractor with the Port Authority of New York and New Jersey.