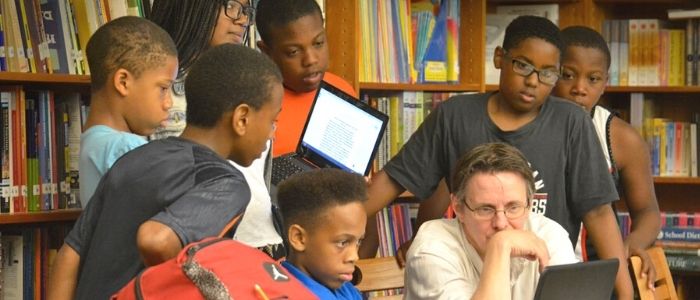 Strategic Marketing & Branding Propels New Jersey Nonprofit Forward
Write on Sports is a New Jersey-based nonprofit organization that provides literacy programs through sports journalism to at-risk, inner-city middle school students in disadvantaged communities. The nonprofit engaged Rapunzel Creative to help the organization develop a strategic marketing, messaging and communications plan, donor acquisition roadmap, and grow brand awareness of the organization's unique programs.
Over the last year, Rapunzel Creative has been working closely with the organization's Community Engagement Director and board members.
THE CHALLENGE:
Write on Sports is run by a small staff and a board of trustees who volunteer their time and talent. Executing all marketing activities while also doing community outreach and building relationships with school districts, parents and students was challenging to say the least!
"We needed specific professional help with our marketing communications strategy to help us grow, because we were hampered by lack of time, appropriate personnel, and expertise to pull it all together," said Shannon Schmitt, community engagement director. "Our website and marketing materials in particular needed updating and our board recognized that we needed strong marketing materials in place to grow. Given our limited resources, we knew we needed to engage a full-service marketing and branding firm."
After conducting an online search, Write on Sports talked to several marketing firms of varying sizes. The team decided they preferred a boutique agency with experience in nonprofit marketing and messaging—especially one in NJ, where its biggest growth opportunity is right now.
"Rapunzel Creative checked all the boxes. Based in North Jersey, the right size, nonprofit experience, and offering web development, design, and social media marketing."
Marketing strategy, ongoing guidance to meet nonprofit growth and donor acquisition goals
THE SOLUTION: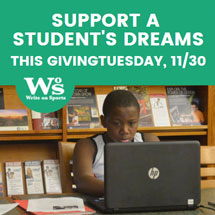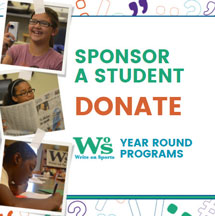 During the first half of 2021, we assessed the existing branding and marketing materials and reviewed those against the board's growth plans. Our team then laid out a full marketing and communications strategy for Write on Sports.
Our strategy and the ensuing work we did centered around creating a look, feel, and messaging that gives school districts, families, and donors a clear vision of the nonprofit's mission. This included homing in on the organization's brand message, updating the website design and messaging, and implementing an SEO plan. The agency also began updating the visual brand, revising existing support materials, and developing new donor and sponsor sales tools such as impact statements and a case for support.
Rapunzel Creative continues to provide social media strategies, guidance on promoting fundraisers, and weekly support to the board regarding priorities for the best use of their resources to reach their goals.

"In addition to creating our marketing strategy, Rapunzel Creative highlights our most pressing needs and works from there with us."
Nonprofit website rebrand, marketing collateral creation
The nonprofit brand audit revealed a lack of strong foundational materials that showcase what Write on Sports does and for who, and which also lacked contemporary branding. The Rapunzel Creative designers:
Updated the website's brand color palette and design to create an image and feel that more closely reflect the Write on Sports team and the mission.
Created marketing collateral with messaging and design that are cohesive and aligned with the updated color palette for a fresher, more youthful look.
"It's been great to see these changes over the past year," said Brian Fisher, trustee. "It's a dramatic improvement with a more defined look thanks to having a dedicated marketing and branding agency to support us. We've gotten a lot of positive feedback from others who've noticed the updated branding."
The organization reports that the trustees and staff all feel more confident that what they are showing potential school partners and donors now reflects the brand more authentically. This was an important start to tackling ambitious growth plans to have a Write on Sports program in every New Jersey community or school district, with a primary focus on its target demographic: students from underserved communities.


"It's been great to see these changes over the past year," said Brian Fisher, trustee. "It's a dramatic improvement with a more defined look thanks to having a dedicated marketing and branding agency to support us. We've gotten a lot of positive feedback from others who've noticed the updated branding."
Fresh messaging that speaks to donors
Developing clear, consistent messaging across all marketing assets was just as important to build brand awareness. The team at Write on Sports says this has been very beneficial as the organization sets out to increase donor revenue and sponsorships.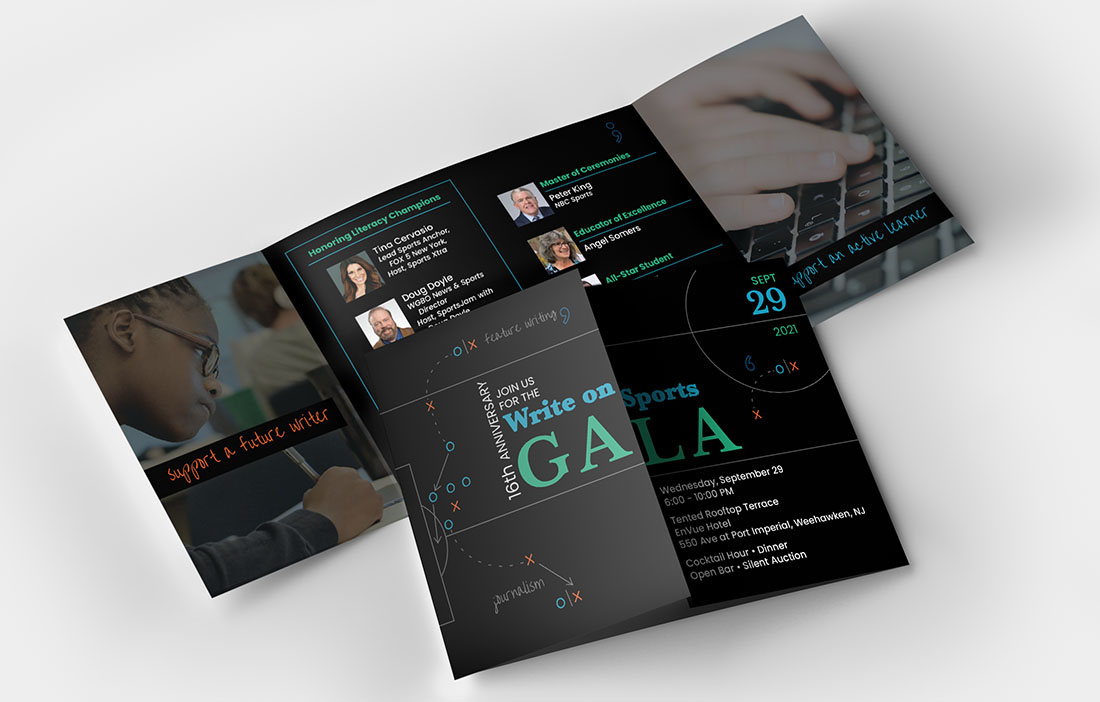 "With foundational materials in place and marketing messaging always focused on our mission, values, and goals, we are now much better positioned to nurture our donors and attract corporate sponsors, which is a specific plan for 2022," said Brian. "We will work with Rapunzel Creative to address that area of opportunity."
The importance of a nonprofit marketing communication calendar
To help the Write on Sports team execute its annual strategic marketing plan in an organized manner, Rapunzel Creative created a social media and editorial calendar for social media posts and direct marketing. All dates and topics with detailed blurbs are laid out in advance so nothing is done "on the fly." The team reports that by simply following the grid, everything rolls out as planned, per the schedule, without guesswork and with the ability to tweak content as needed.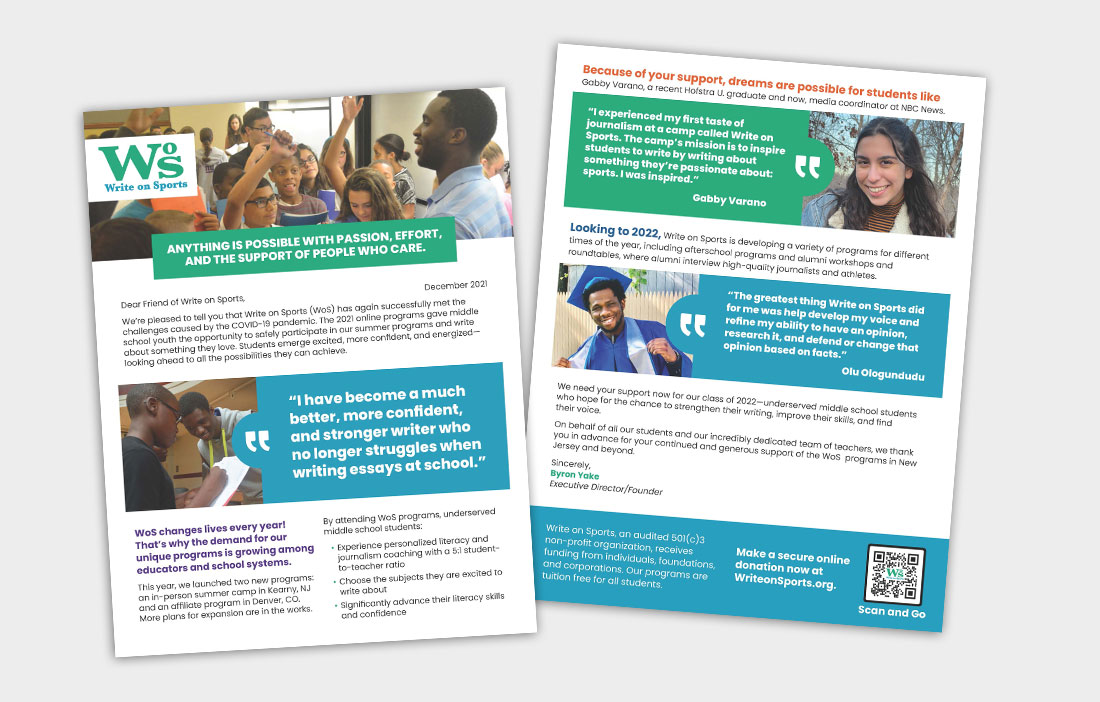 "We are set up so much better now to succeed in 2022, thanks to the creative and branding work, and ongoing guidance and support, of Rapunzel Creative."
If you run a nonprofit organization that would benefit from fresh branding, a clear marketing plan and messaging, and the ongoing support of an experienced team that understands the distinct needs of nonprofits, contact Rapunzel Creative to get started.
About Rapunzel Creative
Rapunzel Creative is an award-winning branding, digital marketing, and advertising agency located in Bergen County, New Jersey, within the New York metro market. Services include business branding, website design, digital marketing (such as social media, SEO, and email marketing) and advertising campaigns. The agency also specializes in nonprofit marketing and branding. Rapunzel Creative is certified by the State of New Jersey as a (WBE) Women Business Enterprise, is a WBENC certified organization, and is a certified SBA and WOSB and approved contractor with the Port Authority of New York and New Jersey.