RIDGEWOOD, N.J., November 3, 2019 – Rapunzel Creative Marketing, a full-service marketing agency based in Ridgewood, N.J., has won three creative awards for its work to promote services and programs of Children's Aid and Family Services, a non-profit organization in Paramus. The firm designed a 12-page print Case for Support brochure and a subsequent digital version, called "We Envision a World," for desktop and mobile devices; both were recognized with top prizes by the Academy of Interactive Visual Arts (AIVA) and Graphic Design USA (GDUSA).
Rapunzel Creative won two awards in the AIVA's 15th Annual Davey Awards, which showcase and honor creative work from the best small shops, firms and companies: a gold Davey for "Design & Print Collateral Brochure for Design/Print" and a silver award for "Websites: Non-profit for Websites." The winning submissions were chosen from among nearly 3,000 submissions from around the world.  On the heels of that recognition, Rapunzel Creative also won a 2019 American Graphic Design Award™ from GDUSA for the Case for Support website design. Only ten percent out of approximately 10,000 entries were selected as winners in their categories.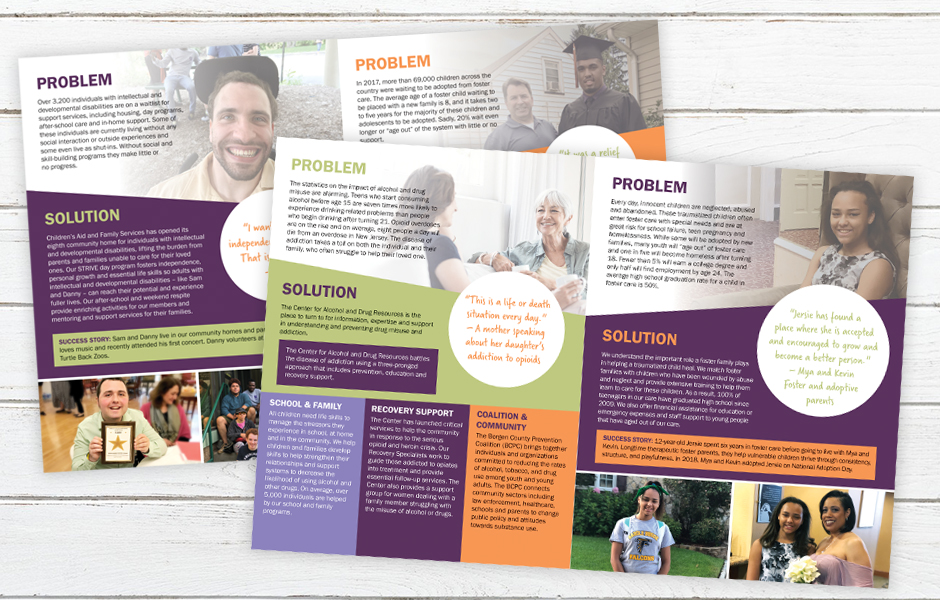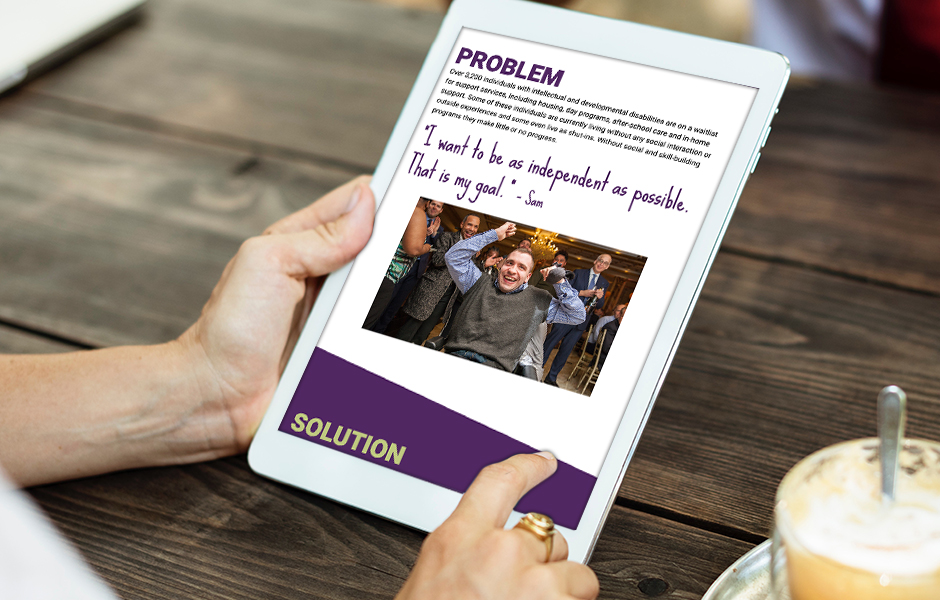 Lynn Gregorski, president and founder of Rapunzel Creative, said that Children's Aid and Family Services—long recognized for award-winning foster and adoption programs—has been undergoing a transformation and expansion of services.
"The organization offers life-changing programs in the areas of drug and alcohol education, recovery support, housing and day programs for people with developmental disabilities, housing for teen mothers, and baby supplies for families at the poverty level," said Gregorski. "Our goal is to educate supporters about all the new services and programs as well as engage and inspire donors to transform lives through giving."
Commenting on the project, Gregorski said that, "The interactive user experience of the digital brochure brings all the stories in the printed piece to life with flipping boxes, photo galleries and statistics counters. The next generation of donors live in a digital world, so we recommended this completely digital version that could also offer additional content and visuals." Both versions of the Case for Support speak to the donors about what they can make possible for others through their contributions.
"Rapunzel Creative truly helped show the profound impact that Children's Aid and Family Services has on our community," says Sara Huisking, the non-profit's vice president of development. "We congratulate them for a well-deserved award."
Gregorski, a Hillsdale resident, is a member of the Pascack Valley Chamber of Commerce, Westwood Chamber of Commerce, North Jersey Chamber of Commerce and a member and advisor of the Ridgewood Chamber of Commerce. She founded Rapunzel Creative Marketing in 2012 to help businesses and nonprofits build more powerful brands. For more information, visit www.rapunzelcreative.com or contact Lynn Gregorski at lynn@rapunzelcreative.com.
###
About Rapunzel Creative
Rapunzel Creative is a results-driven strategic marketing and advertising agency that builds innovative brands and drives sales through imaginative campaigns, digital marketing, and advertising. It specializes in helping corporations gain market share by reinventing existing brands or developing new brands that are value-centric, distinctive, and memorable. Rapunzel Creative's portfolio includes B2B and B2C brand advertising in a wide range of industries, including technology, insurance, automotive, financial services, real estate, law, manufacturing, health and wellness, hospitality, tourism, and nonprofit. The agency was founded by Lynn Gregorski in 2012.
About the Davey Awards/AIVA
The Davey Awards is judged and overseen by the Academy of Interactive and Visual Arts (AIVA), a 700+ member organization of leading professionals from various disciplines of the visual arts dedicated to embracing progress and the evolving nature of traditional and interactive media. Current membership represents a "Who's Who" of acclaimed media, advertising, and marketing firms including: Code and Theory, Condé Nast, Disney, GE, Johns Hopkins Medicine, Microsoft, Tinder, MTV, Push., Publicis, Sesame Workshops, The Marketing Store, Your Majesty, Yahoo!, and many others. Visit www.aiva.org ​for more information on the Academy and a full list of members.
About Graphic Design USA
Since 1963, Graphic Design USA (GDUSA) has been a business-to-business information source for graphic design professionals. GDUSA covers news, people, project, trends, technology, products and services. The GDUSA brand includes several national design competitions that culminate in Annuals showcasing the best in Graphic Design, Inhouse Design, Web Design, Package Design, Healthcare Design, and Digital Design. Other major initiatives include annual recognition of leading Designers to Watch and promising Students to Watch, and periodic benchmark Reader Surveys on the state of print design, technology in design, design education, and the use of stock imagery in design. More information is at http://gdusa.com/.