Rapunzel Creative Marketing is a Finalist in the 51st Annual NJ Ad Club Awards Competition  
Rapunzel Creative Marketing is a Finalist in the 51st Annual NJ Ad Club Awards Competition
Full-service Marketing Agency is Recognized for Video Campaign for Conrad's Confectionery In Westwood
RIDGEWOOD, N.J., April 18, 2019 – Rapunzel Creative Marketing, based in Ridgewood, N.J. has been named a finalist in the 51st Annual NJ Ad Club Jersey Awards. The agency is being recognized for a video campaign created for Conrad's Confectionery in Westwood titled, "If You Stack 'Em They Will Eat." The entry category is "Video-Campaign, 3 or More Elements." The campaign was created to promote ice cream pies and sandwiches as must-serve desserts during the November-December holiday season.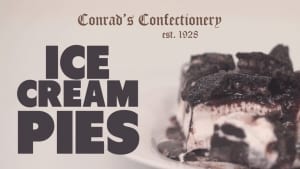 The copywriter and creative director of the video campaign was Lynn Gregorski, founder and president of Rapunzel Creative, with videography by Adam Boyer. Gregorski will find out if her campaign takes 1st or 2nd place or earns a certificate of honor at the awards show, being held on June 5 at The Grove in Cedar Grove. Rapunzel Creative provides strategic marketing and advertising services for B2B and B2C accounts, from planning to implementation, in all media.
"Conrad's asked us to create and execute a digital marketing plan that would build product awareness and boost sales of its ice cream desserts as alternatives to the usual holiday pies and cakes," said Gregorski.  "This simple social media campaign showed holiday hosts that instead of the typical pumpkin pie, you can serve ice cream for Thanksgiving."
Gregorski developed three 15-second videos that promoted the products by offering different serving ideas such as stacking a variety of ice cream sandwiches to create a stunning dessert. Gregorski said the client reported a 30% increase in sales over previous seasons.
"The posts dramatically increased follower engagement and generated buzz about the products," said Gregorski. Details are on the Rapunzel Creative website at https://www.rapunzelcreative.com/case-study-conrads
Gregorski, a Hillsdale resident, is a member of the Pascack Valley Chamber of Commerce, Westwood Chamber of Commerce and Ridgewood Chamber of Commerce. She founded Rapunzel Creative Marketing in 2012 to help businesses and nonprofits build more powerful brands. For more information, visit www.rapunzelcreative.com or contact Lynn Gregorski at lynn@rapunzelcreative.com. ###
About Rapunzel Creative
Rapunzel Creative (www.rapunzelcreative.com) is a results-driven strategic marketing and advertising agency that builds innovative brands and drives sales through imaginative campaigns, digital marketing, and advertising. It specializes in helping corporations gain market share by reinventing existing brands or developing new brands that are value-centric, distinctive, and memorable. Rapunzel Creative's portfolio includes B2B and B2C brand advertising in a wide range of industries, including technology, insurance, automotive, financial services, real estate, law, manufacturing, health and wellness, hospitality, tourism, and nonprofit. The agency was founded by Lynn Gregorski in 2012.
Media contact: Lynn Gregorski
lynn@rapunzelcreative.com
877-709-3456
About Rapunzel Creative
Rapunzel Creative is an award-winning branding, digital marketing, and advertising agency located in Bergen County, New Jersey, within the New York metro market. Services include business branding, website design, digital marketing (such as social media, SEO, and email marketing) and advertising campaigns. The agency also specializes in nonprofit marketing and branding. Rapunzel Creative is certified by the State of New Jersey as a (WBE) Women Business Enterprise, is a WBENC certified organization, and is a certified SBA and WOSB and approved contractor with the Port Authority of New York and New Jersey.