Rapunzel Creative's President Featured in Agency Spotter Article on Woman-Owned Agencies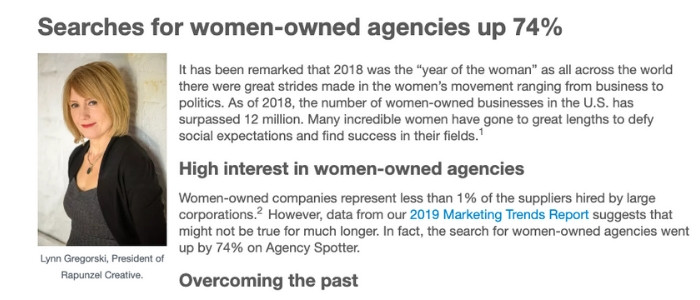 Rapunzel Creative president and founder, Lynn Gregorski is featured in this week's Agency Spotter article, "Women-Owned Agencies In Demand: Marketing No Longer a Boys Club"  The article talks about 2018 being "the year of the woman" across the world and how more and more women are making strides in building woman-owned businesses.
"Women in the workplace continue to fight for equal pay; meanwhile, female agency owners aren't waiting," says Rapunzel Creative president Lynn Gregorski.  "We are part of a movement currently underway in which women are collaborating with and supporting other women-owned businesses," she adds. Gregorski pointed to the fact that right now, women-owned businesses only account for 39% of all privately held firms. By hiring a women-owned agency that is a certified WBE (Women Business Enterprise) like Rapunzel Creative, you are not only supporting women entrepreneurs—you are also helping us move the needle. "At 39%, there's plenty of room for growth," says Gregorski. Many businesses may not be aware if you are a contractor working on a federally funded project, hiring a women-owned marketing firm helps you meet the federal requirements of awarding a portion of those contracts to minority or woman-owned businesses (M/WBE).
The article also explains that women control over 80% of consumer spending.  With that kind of insight, a women-led agency ensures an opportunity to gain valuable female consumer insight.
"Women are natural problem-solvers and strategists. They also tend to be good listeners and want to help others succeed by giving advice that's in the client's best interests," says Gregorski.  She explains that at Rapunzel Creative, their brand and strategy projects begin by looking at problems their client's face, as well as their customers' pain points. "We respond to what they need (not necessarily what they think they need or that won't serve them well in their industry or marketplace). When you can provide highly-targeted solutions that meet the needs of your clients and their customers, it's a win-win!"