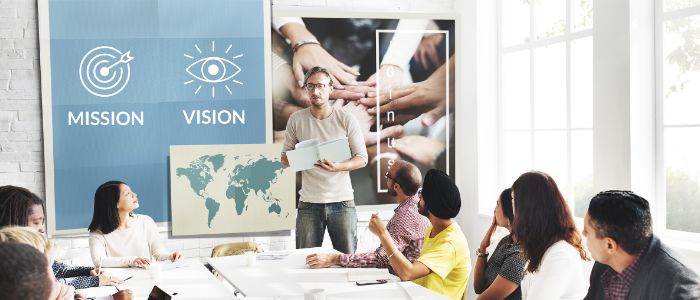 Nonprofits: Is it Time to Revisit Your Organization's Mission and Vision Statements?
Over time, things change for any entity. Identifying the changes in a nonprofit organization's services and/or the people it serves, and how that may affect future growth and reach, will underpin a fresh take on the organization's mission and vision—and subsequent nonprofit branding.
The importance of revisiting–and refreshing–your nonprofit mission statement
Many nonprofit organizations evolve and expand their services and core clientele beyond the original mission; when that happens, it's important to revisit and revise the nonprofit mission statement. Doing so ensures that the mission accurately reflects the organization's updated purpose and offerings. It also provides stakeholders with a fresh perspective on the organization's goals and will guide new brand messaging.
For example, one client, Hope Christian Services, noted that renaming their organization in line with new services prompted them to revisit their mission statement so that it would be more targeted to shifts in services and population served.
"The updated mission statement speaks more directly to current initiatives to expand services to a wider population that has broader needs," said CEO Daryl Rogers.
Sign-up for Rapunzel Creative's Monthly Nonprofit Newsletter
Subscribe today and get marketing tips that will help you grow your nonprofit organization!
How your mission and vision guide nonprofit brand messaging
As part of your process of revisiting your nonprofit's mission statement, don't forget to take a fresh look at your vision statement, too. Since these work together to guide your brand messaging, you'll want to make sure both are in sync with each other.
Plus, just as your mission is updated to align with new services or expertise offered, or changes in your industry or operating market, so goes your vision statement. Together, they speak to what your organization is all about today . . . and your team's hopes for societal changes through achieving its goals—an inspiration for employees and donors alike.
A nonprofit healthcare organization we work with was preparing to overhaul its outdated website. Part of that process included revisiting the lengthy mission statement. They trimmed it down and altered the vision statement slightly to reflect changes in the marketplace, as more people than ever needed its services in a post-pandemic environment.
Amanda Missey, Executive Director of Bergen Volunteer Medical Initiative, shared with us that "Although our overarching mission has not changed, the healthcare market is always evolving. We made our mission statement more succinct to bring forth our brand promise more readily and updated our vision statement to reflect the broader population that needs our services. This was a very worthwhile exercise for our grant writer as well, and got everyone involved in the organization on the same messaging page."
Getting mission and vision buy-in from nonprofit stakeholders
Whether it's the board of directors or the management team, getting buy-in on the refreshed mission and vision statements is essential before making them public facing. Getting that buy-in often means inviting them to participate in the mission and vision updates. A great example of this is when one of our clients included board members and some long-time donors in its effort and incorporated their thoughts into the updated statements and brand messaging. This made the whole process barrier-free in terms of internal approvals.
The value of clearly communicating the new nonprofit mission and vision
Clearly communicating the refreshed mission and supportive vision statement to employees and supporters is essential to a nonprofit's marketing and branding. After all, these people are the lifeblood of your nonprofit, so that additional layer of buy-in will go far in helping you build a strong donor base (and loyal team) for long-term, sustainable support. Communicating the new nonprofit mission and vision effectively–through meetings, emails and letters, and by including them on marketing materials will:
foster buy-in from current supporters to retain your existing donor base
underpin the case for support to potential donors and build a stronger fundraising pipeline
guide the organization's decision-making process on the leadership and board level
help it attain the future it sees for those it serves
"The new mission and vision are always listed in our publications and many of our newsletter articles refer to them, which helps us market the enhancement of our mission to stakeholders."
Kimberly Salles, Director of Technology & Development, Hope Christian Services
Contact Rapunzel Creative to revisit your nonprofit mission and vision
Evaluating and refining a nonprofit organization's mission and vision statements are essential steps to market updated, enhanced services and goals more effectively. If your organization has been experiencing change and it's time to revisit its mission and vision—along with fresh nonprofit branding—contact Rapunzel Creative to discuss your nonprofit branding needs.
About Rapunzel Creative
Rapunzel Creative is an award-winning branding, digital marketing, and advertising agency located in Bergen County, New Jersey, within the New York metro market. Services include business branding, website design, digital marketing (such as social media, SEO, and email marketing) and advertising campaigns. The agency also specializes in nonprofit marketing and branding. Rapunzel Creative is certified by the State of New Jersey as a (WBE) Women Business Enterprise, is a WBENC certified organization, and is a certified SBA and WOSB and approved contractor with the Port Authority of New York and New Jersey.