Instagram Shut Down Our Account. Help!
Our Instagram tale of woe began in mid-February when Lynn Gregorski, president of Rapunzel Creative Marketing, tried to sign into the agency's business Instagram account on her phone. She instantly received a notice that the account had been compromised, and that the account password was being used on multiple accounts elsewhere.
Lynn thought this issue might have been related to the Apple iOS update implemented on her devices that weekend, which cleared all cookies and forced a fresh login on all accounts (including Instagram). However, when Lynn tried to log back into the Rapunzel Instagram account, she received this notice about a violation of terms: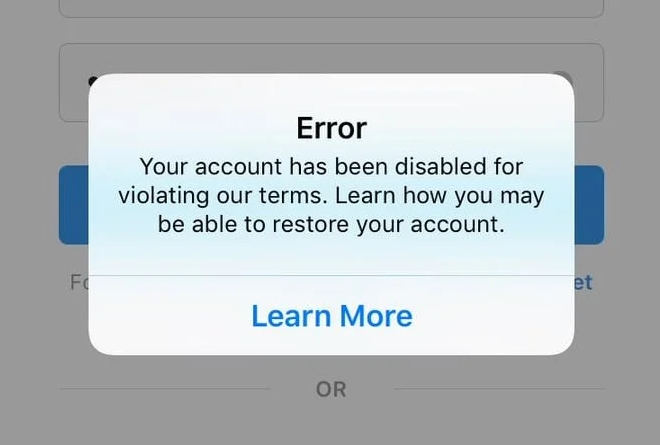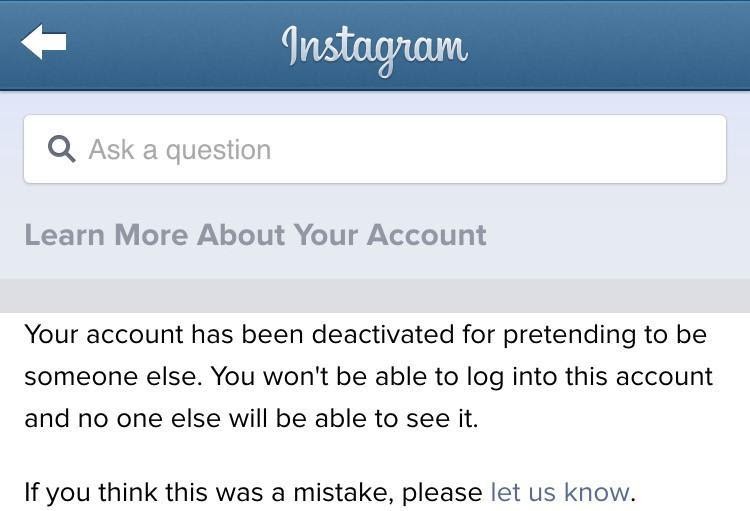 Why are accounts blocked on Instagram?
Mass liking, messaging and following (as in, too many per hour)
Excessive posting
Lack of artist/author credit (copyright infringement) when posting someone else's content
User complaints/reports about your posts
Inappropriate content that violates platform rules
Logging in from multiple devices or IP addresses
Rapunzel Creative was guilty of none of the above.
Rather than blocking the account (a temporary hand slap); Instagram disabled it and as Lynn quickly discovered, breaking out of that jail was not easy. In fact, it took over three months and the help of social media expert, Anne Popolizio of Social Squib to achieve account resolution.
Lynn had worked hard to build up the Rapunzel Creative Marketing brand on the platform, so to start fresh with a new username caused a break in development of brand awareness, trust and a following under the original account name. Sigh.
How Rapunzel Creative busted out of Instagram jail.
Lynn received several notices from the app, asking her to verify the account and provide some personal information from a list of documents to prove the account owner's identity. This felt a bit sketchy. Would you want that data floating around cyberspace?
However, there was a glitch when Lynn provided the documents and the transaction stalled. Where was the information? Hmm. She went to the Instagram Help page, which (oddly) asked only for a photo and basic information (more on that below).
As if this weren't frustrating enough, let's toss this on the fire: Given the size and reach of Instagram's parent company, Facebook, why isn't there a phone number to call and a live help desk? Really? Can't afford phone support? Email is no better. If you have tried the support@instagram.com you will get an autoresponder that the email is no longer supported. Lynn decided to try to recover the account through the Facebook Business Manager platform. After submitting a request form online, she received this email.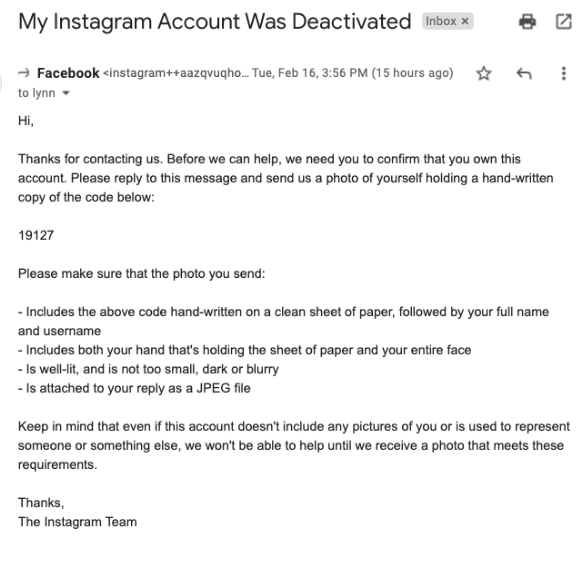 OK— write a code on paper with your name and username, take a picture that also shows your face, and attach the photo to the reply. Is this real or a scam? And what about the other instructions from the app with all those identifying, confidential documents? Perplexed, Lynn Lynn deleted the Instagram app from her phone and contacted Anne Popolizio of Social Squib, someone who could cut through the Instagram barbed wire to release Rapunzel Creative from IG prison!
Here's what Anne the Facebook Business expert did:
The good news is that the Rapunzel Creative Instagram account was connected to the Rapunzel Facebook Business Manager. This enabled Anne to make herself an admin on the account at all levels and therefore advocate for Rapunzel Creative. Whew!
She troubleshooted every possible scenario she could think and took some extra ID verification steps to make sure Facebook knew we were legit. Since she had a different level of access to the platform, she was able to reach Support to help restore the account.
"The fact that the account was associated with Facebook Business Manager was really good because I was able to make myself an admin through that channel and work my way through the system," says Anne, who advised that any business account should be set up through Facebook Business Manager for this and other reasons.
However, even with her access and expertise, it took two more months to straighten this out, with weeks in between communication from the platform! Anne persisted with multiple help tickets, and got the case escalated at Facebook. Then one day, she received an email that the case was being closed and the account was restored. Voila!
Facebook was mum on what the problem was. but Anne believes it stemmed from a third-party follow/unfollow tool Rapunzel Creative had been using.
"I advise businesses to avoid using unauthorized publishing and other tools because they tend to disable accounts, as they are perceived by the platforms as generating bot activity (a violation of terms of use)," says Anne.
We are thankful that Rapunzel Creative is out of jail and back in action on the app. Follow us there at @rapunzelcreative.
About Rapunzel Creative
Rapunzel Creative is an award-winning branding, digital marketing, and advertising agency located in Bergen County, New Jersey, within the New York metro market. Services include business branding, website design, digital marketing (such as social media, SEO, and email marketing) and advertising campaigns. The agency also specializes in nonprofit marketing and branding. Rapunzel Creative is certified by the State of New Jersey as a (WBE) Women Business Enterprise, is a WBENC certified organization, and is a certified SBA and WOSB and approved contractor with the Port Authority of New York and New Jersey.