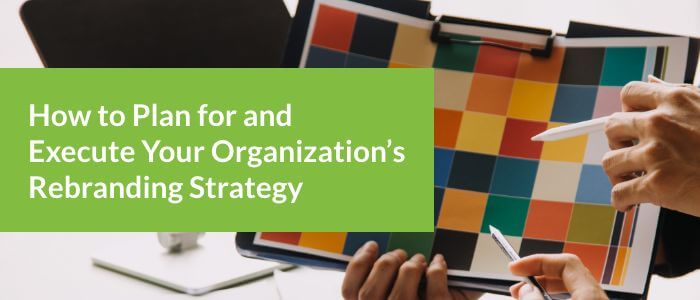 How to Plan for and Execute Your Organization's Rebranding Strategy
As you know, corporate branding and corporate rebranding can be anything from a fresh mission statement and updated design to a full overhaul of the company's messaging and business model to mirror a new position in the marketplace. It may also involve a name change to reflect new products or services, or a new partnership with another organization. All this, while ensuring you retain your current buyers and audience while also attracting new buyers or nonprofit donors. There's a lot for CMOs and marketing VPs and directors to consider regarding your rebranding strategy; we share some key considerations for a business rebrand.
Know your rebranding reasons
At its core, a rebrand is a shift in marketing strategy to accommodate your organization's new or updated identity. Start with the reasons why your team is undertaking this initiative as well as the types of business rebranding you'll undertake. Is it to:
Refresh a tired brand? Perhaps your logo and typeface are outdated, or your brand's overall look is stuck in another era.
Attract a new consumer or donor profile? Has your target demographic changed?
Clarify your company's services or products (or bring everything up to date with what you really do today)? Dunkin' is a good rebranding example in this vein, dropping "donuts" from the name to reflect its expanded offerings.
Reflect a new mission, vision, and/or values? What the founders were thinking may not be in line with contemporary market demands or trends.
Reposition your organization in your industry or market?
Address consumer concerns about your product or service?
Implement a leadership transition or a merger/acquisition?
Create a rebranding strategy
A company rebranding checklist will be very helpful here. Similar to your marketing strategy, a rebranding strategy checklist includes stating objectives, identifying your target audience (has it changed? Will it broaden?), and redefining the mission and vision (informed by brand values). Out of these will come a fresh brand statement that will underpin your messaging as well as the tactics you'll take to execute the rebranding strategy.
Don't forget to include the marketing budget on your business rebranding checklist as well as the time this important project will take. In addition to exploring all the items on your checklist and factoring in the rollout, you also have to account for all the new creative you'll produce and media buys you'll make as a result of this initiative.
Stakeholder participation and buy-in
Internal
Your entire marketing team and C-suite should be involved in your business rebrand strategy. If you've been through this before, you know it's a time-consuming and broad effort that touches all your marketing communications—from the value proposition to your visual identity across all channels—as well as how your business is perceived by the public.
Don't forget the rest of your team! Your employees will need to understand the reasons for and buy into the strategy for smoother implementation—especially if your mission statement or deliverables are changing. Loop them into the process where appropriate—perhaps in an exercise about brand values or what they perceive to be your competitive advantages. If you're a nonprofit, key board members can provide valuable insights and input as well—and smooth the way toward that new brand reveal.
External
Consider what any of these changes mean to your existing customers. They'll want to know that they will continue to benefit from the new brand, perhaps in new and broader ways. Identify and communicate to this audience about what is staying, what is going, and why.
Depending on the extent of your rebrand, invite them to see the value in your broader or more contemporary offerings, and get them excited about your new visual branding. Retain their trust by answering their questions about what the change means for them in your newsletters or other communication.
Go public about the rebrand
Social media and email marketing are great channels for publicizing your business's rebranding. You're likely updating your website but you can certainly include a page or popup on your existing website about the exciting changes on the horizon before the new site launches. Consider investing in a digital or print ad campaign to communicate broadly about your updated identity. Depending on your market or industry, press releases are also useful communication tools.
Work with an experienced rebranding agency
Rapunzel Creative is an experienced, award-winning rebranding agency based in northern NJ, working with regional and national clients. We have helped small businesses and nonprofit organizations rebrand successfully, clarifying what they do and who they serve more effectively. Our branding work for digital and print projects has garnered multiple awards and we have been recognized numerous times by Agency Spotter as a leading branding and digital marketing agency.
From updated brand positioning to fresh creative, we love helping clients enhance their branding. We'd love to talk about yours.
Frequently Asked Questions
What is corporate rebranding?
Corporate rebranding is the process of overhauling and updating a company's existing brand identity, including its visual elements, messaging, and overall image, to revitalize its presence, address changing market conditions, or align with new strategic directions. It often involves modifying key brand components while retaining core elements that maintain recognition and value.
What are the main reasons companies rebrand?
Companies often rebrand to stay relevant in evolving markets, adapting their identity to shifting consumer preferences and industry trends. Additionally, rebranding can be driven by the need to address negative perceptions, expand into new markets, or signal a change in company strategy or values.
What is the best way to advertise a corporate rebranding?
The best way to advertise a corporate rebranding is through a comprehensive and multi-channel approach that includes a mix of digital and traditional marketing methods. This could involve unveiling the rebrand through social media, press releases, email campaigns, updated website content, and possibly even events or partnerships to generate excitement and engage both existing and potential customers. It's best to work with an experienced branding agency to ensure success.
About Rapunzel Creative
Rapunzel Creative is an award-winning branding, digital marketing, and advertising agency located in Bergen County, New Jersey, within the New York metro market. Services include business branding, website design, digital marketing (such as social media, SEO, and email marketing) and advertising campaigns. The agency also specializes in nonprofit marketing and branding. Rapunzel Creative is certified by the State of New Jersey as a (WBE) Women Business Enterprise, is a WBENC certified organization, and is a certified SBA and WOSB and approved contractor with the Port Authority of New York and New Jersey.