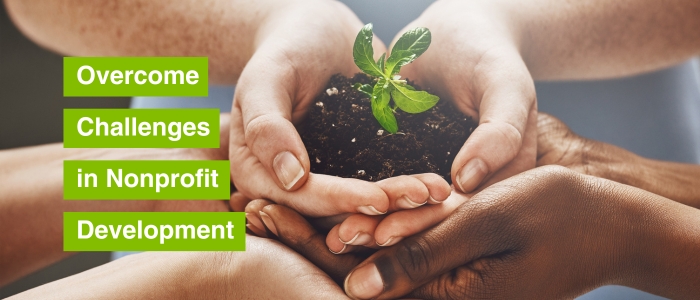 How to Overcome Common Challenges in Nonprofit Development
You know that saying about 80% of the work being done by 20% of the people? In the nonprofit sector, something similar can be said when talking about fundraising, as we noted in a previous blog article. That's because charitable contributions are becoming highly concentrated among a relatively few wealthy donors.
In one study, 86% of donations were received from just 6% of donors. The converse makes this point even more starkly: 94% of donors were contributing only 14% of funding. In addition to creating dependency risks, some would say this trend of relying on just a few donors is undemocratic, given that it enables those donors  to wield outsized influence over nonprofit strategies and programs.
On top of this, fewer Americans are giving to charity than they were 20 years ago. All of this means that organizations are competing for mindshare in a shrinking pool of donors. And when new donors are obtained, too many of them contribute only once and then move on.
So, what is the average nonprofit organization to do in the face of these headwinds?
The first step is to take stock.
Second, develop a comprehensive plan of action that is flexible and measurable.
Lastly, because so many plans break down during their implementation, effectively execute it with appropriate resourcing so it gains traction.
Creating Your Nonprofit Development Program
The goal of creating an effective development program is to fully understand your operational and competitive landscape. Any for-profit company must continuously perform this exercise, or else they risk being marginalized, being out of step with their customers, facing declining market share, or worse. Because nonprofits exist to solve social problems and provide civic services and benefits, they tend not to think of themselves in competitive terms. However, nonprofits do compete, not only for fundraising dollars, but also for relevance and brand awareness.
Given this reality, there are several models that can be used for strategic planning of your development program.
A comprehensive SWOT analysis (evaluating strengths, weaknesses, opportunities, and threats) typically includes input from all stakeholder groups, identifies areas of leverage, and opportunities for growth. It also crystalizes downside risks and areas of vulnerability.
Five Forces Analysis (developed by Prof. Michael Porter in 1979) evaluates your organization through its competitors, suppliers, customers, potential entrants, and substitute services.
The Strategy Diamond (by Prof. Donald Hambrick in 2001) uses arenas, vehicles, differentiators, staging, and economic logic as entry points of analysis.
Other models also exist. Often it is helpful to use more than one to ensure the most thorough evaluation of your program.
Sign-up for Rapunzel Creative's Monthly Nonprofit Newsletter
Subscribe today and get marketing tips that will help you grow your nonprofit organization!
Make a Development Plan of Action
Armed with a comprehensive analysis of your organization, you can start hammering out a strategic development plan that is grounded in actual market conditions.
We know that in business marketing, 60-70% of buying decisions are made before the first contact with a sales representative. To this end, the importance of maintaining a trusted brand in your plan cannot be overstated. Your brand starts with your organization's reputation and transparency, which encourages potential donors to partner with your mission.
Moreover, you should spend time creating memorable – and crystal-clear – vision, mission, and values statements. It is on these foundational affirmations that your nonprofit will create compelling cases for giving for your donors.
A donor-centered case-for-giving:
Illustrates the problem being tackled, presents an inspiring and believable solution, and defines the resources needed to make the solution a reality.
Considers the cost of the entire program, what has been committed so far, and what is still needed. It also describes consequences if the problem is not addressed.
Divides your organization's expense budget into giving opportunities. These options then can be matched to donor passions and interests, which can be highly effective.
Implement Your Nonprofit Fundraising Plan
Often the most challenging part of strategic planning is its implementation. Too many organizations spend time and talent creating well-considered plans, only to neglect or shelve them when other priorities come along. Therefore, it is critical to set benchmarks and timelines that keep your plan on track. And, because every good plan is dynamic, its rollout should be constantly evaluated and adjustments made when necessary.
Another key to effective plan implementation is understanding the fundraising landscape. All too often, fundraisers rely on corporate sponsorships or foundation grants because these organizations control large pools of charitable dollars. While this may be true in some cases, building partnerships with individual and family donors usually leads to a more diversified and recession-proof revenue stream. Did you know that of nearly $500 billion given annually to U.S. charities, 77% of donations come from individuals, while 19% is from foundations and 4% from corporations? Looking at the sources that way, it makes sense to allocate fundraising resources in similar proportions.
Keep Your Nonprofit Donors at the Center of Your Mission
As we know, too many organizations push their fundraisers to chase the money. They end up making their donors feel like ATM machines instead of concentrating on building meaningful relationships. Lasting connections with donors are made by focusing on their passions, interests, and communication preferences. Our next article will address best practices of communicating with your donors and other constituents, so they feel in partnership with you to make the world a better place.
Need fresh insights into building your case for support or showcasing your nonprofit's compelling stories as a fundraising tool? Contact Rapunzel Creative to learn more about how our nonprofit marketing can help you develop a most appealing development program.
About Rapunzel Creative
Rapunzel Creative is an award-winning branding, digital marketing, and advertising agency located in Bergen County, New Jersey, within the New York metro market. Services include business branding, website design, digital marketing (such as social media, SEO, and email marketing) and advertising campaigns. The agency also specializes in nonprofit marketing and branding. Rapunzel Creative is certified by the State of New Jersey as a (WBE) Women Business Enterprise, is a WBENC certified organization, and is a certified SBA and WOSB and approved contractor with the Port Authority of New York and New Jersey.