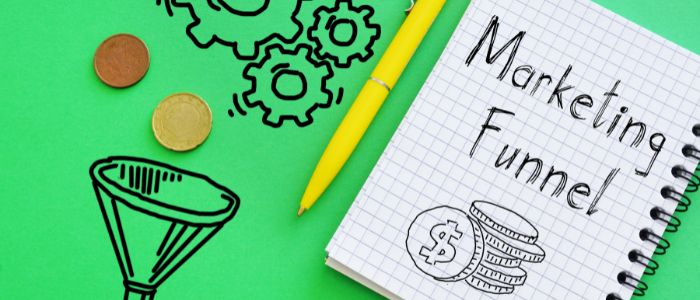 How the marketing funnel takes your audience from brand awareness to conversion to loyal customer
Think of a kitchen funnel—wide at the top, narrow at the bottom as the funnel's contents drip into the container. This is not unlike a marketing funnel—wide at the top with a large audience and narrow at the bottom as that audience travels through the buyer's journey toward customer status.
What is a marketing funnel?
The marketing funnel is a device for brand marketers to gauge where their potential buyers are on the path to purchase. Depending on which marketing funnel model you subscribe to, it may have four or five stops along the path to purchase. It starts with building an audience, driving brand awareness and value, developing interest among target consumers (and often, referral sources), and making the sale.
Marketing funnel stages
Upper funnel marketing
1) The marketing funnel starts at the wide top with awareness—the discovery phase where many people learn about your brand. High-quality social media content, thought leadership and expert byline articles, and brand videos are some digital marketing tactics that build brand awareness.
Mid funnel marketing
The next, slightly narrower stops on the buyer's journey are:
2) Education – consumers are learning about the value proposition of your product or service, the pain points it addresses and how your company solves consumers' problems, or
3) Consideration – the phase at which you demonstrate to your audience why they should choose your brand over others.
At these stages, you might decide to run ad campaigns that reach your ideal customer with more targeted messaging. Sharing case studies, running PPC ads and creating landing pages with lead generation forms are a great way to get people who are interested in your product or service to ask for more information—and get a little something in return (a white paper, for example).
Bottom funnel marketing
4) Now that your audience has learned what you can do for them and has proof (by way of social media posts, explainer videos, blog articles, website content, ads, etc.), they have been narrowed down further to conversion: those who will move to paying customers. Follow up with anyone who has completed a contact form or responded to an email. Share more of your story and why this person with high purchase intent should become your customer.
5) The smallest group is at the tip of the funnel where loyalty and advocacy are. These are the consumers who will retain your services over time, buy your goods repeatedly, and recommend your business to others. Nurturing your buyers throughout the year with various touchpoints—an email newsletter, a note of appreciation, a shout out on social media—are a few ways to keep those relationships warm.
How the marketing funnel helps achieve marketing objectives
Let's say you're the CMO or marketing director of your company and have your marketing strategy laid out. You have sales, revenue and marketing goals to achieve. As part of your marketing road map, the marketing funnel helps you see where to tweak your tactics to get those all-important conversions and repeat sales. It also helps you see if your initial reach is broad enough to achieve the narrower customer count to make those sales goals. For example:
Your analytics show you that you are getting a lot of impressions on social media posts, yet you are not influencing users enough to encourage engagement. The top-of-the-funnel people are not flowing from brand awareness into the middle yet.
The metrics tell you you're getting a lot of unique website visitors and people are visiting different pages, but the lead generation form is not being filled out by the expected number of visitors. Or your email marketing is getting good open rates, but the click-through or inquiry rates are lower than desired. The middle-of-the-funnel audience has not yet entered the bottom of the funnel.
You have a good customer database, but you notice through your CRM that certain customers are not reordering your product, or that your once-strong referral network has been lackluster lately. Your consumers in the bottom portion of the marketing funnel have not reached the loyalty or advocacy stages (so a friendly sales call is in order).
This is all quality information to guide tactical shifts in your digital marketing to achieve your marketing (and revenue) objectives. The funnel directs you on how to keep consumers moving from prospects to buyers—whether you operate a brick-and-mortar store, an e-commerce business, or a professional services firm. The visibility the marketing funnel provides—when used well—is a valuable sales and outreach tool for connecting with your audience and creating more customers. It helps prioritize marketing activities, informs short-term objectives, and serves your brand's long-term marketing goals.
Let's create your marketing funnel
At Rapunzel Creative Marketing, we are strong advocates of using all the tools available to achieve marketing goals and build sales. Based in northern NJ, serving clients throughout the NJ/NY/CT tri-state area as well as nationwide, we help brands build awareness and greater market share through the latest digital marketing tactics as well as tried-and-true marketing and advertising campaigns. Contact us to start building your marketing funnel.
About Rapunzel Creative
Rapunzel Creative is an award-winning branding, digital marketing, and advertising agency located in Bergen County, New Jersey, within the New York metro market. Services include business branding, website design, digital marketing (such as social media, SEO, and email marketing) and advertising campaigns. The agency also specializes in nonprofit marketing and branding. Rapunzel Creative is certified by the State of New Jersey as a (WBE) Women Business Enterprise, is a WBENC certified organization, and is a certified SBA and WOSB and approved contractor with the Port Authority of New York and New Jersey.