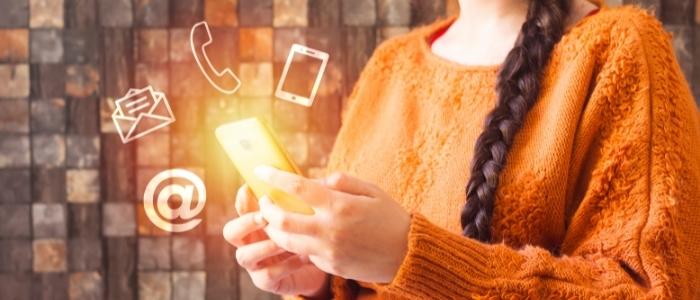 How Brands Can Build Loyalty and an Owned Audience Through Marketing
The lifeblood of small businesses is their loyal customer base. That's why growing and nurturing an audience (of those loyal customers) is such an important goal of small-business marketing. The consumers who comprise your marketing customers are the most invested in your brand because of the value it provides to them. And they'll talk about your brand favorably with their circle of influence (and build a wider audience in the process).
Building Your Brand's Customer
Unless your company is a startup, you likely have an audience of customers, users, or followers for your brand. Time to branch out—and make sure your audience is here to stay!
There are multiple ways for you to reach a wider audience and foster meaningful relationships with new and existing brand consumers. Social media platforms are free to join, give your business more exposure, and have helpful analytics that inform marketing strategy. However, if you are interacting with customers on platforms outside of your own, what you consider to be "your" audience really belongs to the platforms.
Uh Oh – What Does That Mean for Your Customer Lifecycle?
You know all those followers you're tracking and likes that your posts get? The platforms on which you interact with your brand audience own that data. Sure, social networks share data with you. But the bottom line is, that audience data and the users that generate it are theirs.
Adding to this issue are that Facebook has eliminated Facebook Analytics, Apple has updated its privacy policy, and Google is in the process of ending the third-party cookie. The scary-accurate ads that target people based on their information are changing. Consumers will have more control over their personal data. And there is no saying what additional changes will come next and what content your business will be allowed to share.
What is an "Owned" Brand Audience?
"Owning" your brand audience or marketing customer means the data they generate through your interactions is yours to keep—not a third-party platform. This happens when someone has agreed to give you their name, email, or phone number in exchange for something from your business. They may have opted in to subscribe to your newsletter, filled out a lead generation form to download a guide, or purchased from your business before and gave you their contact information through that transaction.
Long story short: the buyers opted in. They became your audience. And now, you own the behavioral data, sales history, and more.
Benefits of Owning Your Brand's Customer Data
When you are in control of the data collection, there can be major payoffs for your business!
Look at it this way: If the platforms on which you engage with your customers were to shut down tomorrow, would you still be able to conduct business as usual?
Owning your customer data creates a more direct path of communication between you and your customers. Direct access to your audience data also helps you to better learn your customers' interests, their buyer's journey, and their consumer behaviors. This in turn informs your marketing strategy and the brand marketing tactics.
When you own your brand's audience, you have a repository of people who provide you with market research via feedback, referrals, and more. You can segment out audiences to different nurture sequences and campaigns, and provide more targeted messaging to meet your people wherever they are on their customer journey. With so much valuable information at stake, why shouldn't business owners spend more time collecting information and building valuable relationships sustainably?
Three Digital Marketing Tools to Build Your Owned Audience
Building a consumer brand audience takes time, but it is worth it. You want to create a positive, engaging experience for your brand's customers. We recommend focusing on these three areas of digital marketing:
Website. Visitors who come to your website want content that is clear, purposeful, and has the information they need. Ways to provide a positive user experience include offers on your page, fresh blog posts, always-current information, polished copy, and engaging imagery. Make sure to place the Facebook pixel on your website so you can track specific actions taken there as a result of your Facebook ads.
Social media. Social media marketing is hugely effective if done right. Whether you are doing organic or paid social, don't focus all your marketing on a single social network. Give your audience a taste of what your brand is about, who you serve, and how happy your customers are. Spark conversations. Stir intrigue. Give potential customers FOMO so they leave the third-party platform to learn more about your business (and fill out those lead gen forms!).
Email. Your email list is your gold mine—so mine it well and strategically. It's crucial to have a good CRM (customer relationship management) program and an updated email database to directly communicate with your target audience(s). If your list is good, the people on it may be the readiest to buy. Conversely, if they haven't opted out, they are interested in hearing from you. Rather than focus on open rates, switch your focus to audience engagement and conversions (becoming buyers more so than readers). Your email recipients will share informative, conversational content with others and look forward to your next e-newsletter when you deliver value to their inboxes.
Your Fourth Tool: Rapunzel Creative Marketing
In a year following so much uncertainty and change, make 2022 the year you build and grow strong foundations, nurture consumer relationships, and deploy marketing tactics to build an owned audience. The team at Rapunzel Creative, a full-service digital marketing agency, can help you develop your brand's audience across multiple marketing channels. Ready to get started? Schedule a quick call with Lynn Gregorski, president of Rapunzel Creative here.
About Rapunzel Creative
Rapunzel Creative is an award-winning branding, digital marketing, and advertising agency located in Bergen County, New Jersey, within the New York metro market. Services include business branding, website design, digital marketing (such as social media, SEO, and email marketing) and advertising campaigns. The agency also specializes in nonprofit marketing and branding. Rapunzel Creative is certified by the State of New Jersey as a (WBE) Women Business Enterprise, is a WBENC certified organization, and is a certified SBA and WOSB and approved contractor with the Port Authority of New York and New Jersey.