How a Rebrand and New Website Raised Awareness for this Non-Profit Organization
The Mental Health Clinic of Passaic (MHCP) came to Rapunzel Creative with a wide range of mental health and therapeutic programs and services, but low brand awareness and an outdated website that was difficult to navigate, had broken pages, and did not convey the breadth of what is available from this non-profit organization. Among the programs MHCP offers are therapeutic and counseling services, innovative children's programs, support for Passaic County schools, family and adult counseling, and services for survivors and victims of domestic violence. MHCP services over 4,000 people in northern New Jersey each year.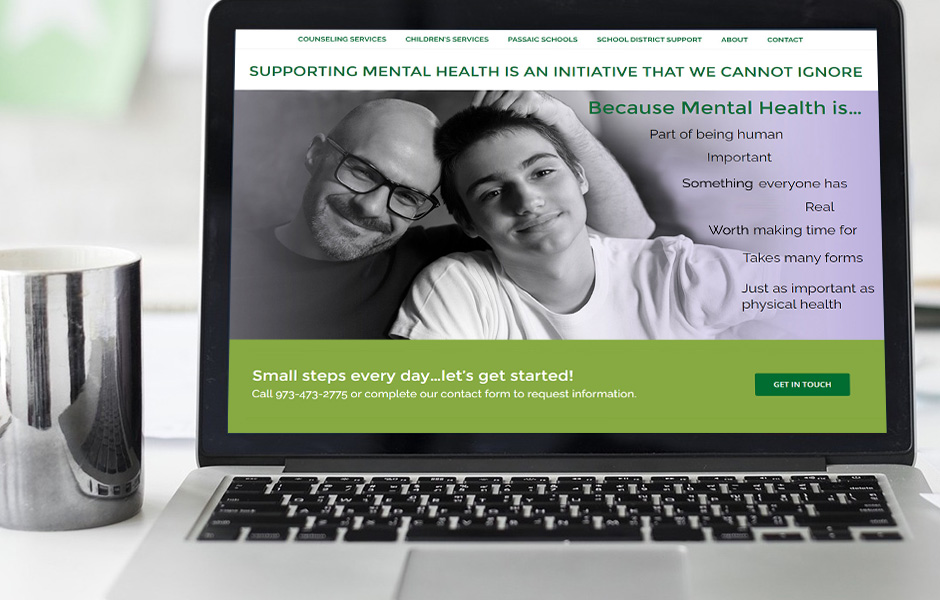 Tasked with transforming MHCP's online presence, our objectives were to:
Show the work the organization does within and beyond Passaic County
Improve navigation and messaging to clearly communicate services to all site visitors
Reflect the diverse population the agency serves, with an emphasis on children and families
Provide a translation feature for area residents who are foreign-language speakers
Highlight upcoming events
Improve search engine optimization so the public can find the services in organic search
Make it easy for people to contact MHCP comfortably via contact forms
Help visitors easily find how to donate and career opportunities
The Rapunzel team updated the branding with a contemporary color palette, enhanced navigation with new pages and an easier user experience, fresh website copy, and clear "donate" buttons to encourage monetary support.
Of the site redesign, Rapunzel Creative website designer, Leah Higgins said that, "Their logo is green and brown and there were photos of forests so at first glance, the old site looked like it was for a conservation organization. We introduced a new color palette that kept green as the primary color and used calming soft pastels as secondary colors.
Its patient-focused approach was not apparent, and the big chunks of copy made information hard to digest. We broke the services down into specific categories and colors, with appropriate photos. We also used photos of multiracial people of all ages, which better represent MHCP's clientele, and we implemented a language translator that translates the website content into Spanish, Portuguese, and Arabic. Overall, we focused on who MHCP serves in the community and the services they provide."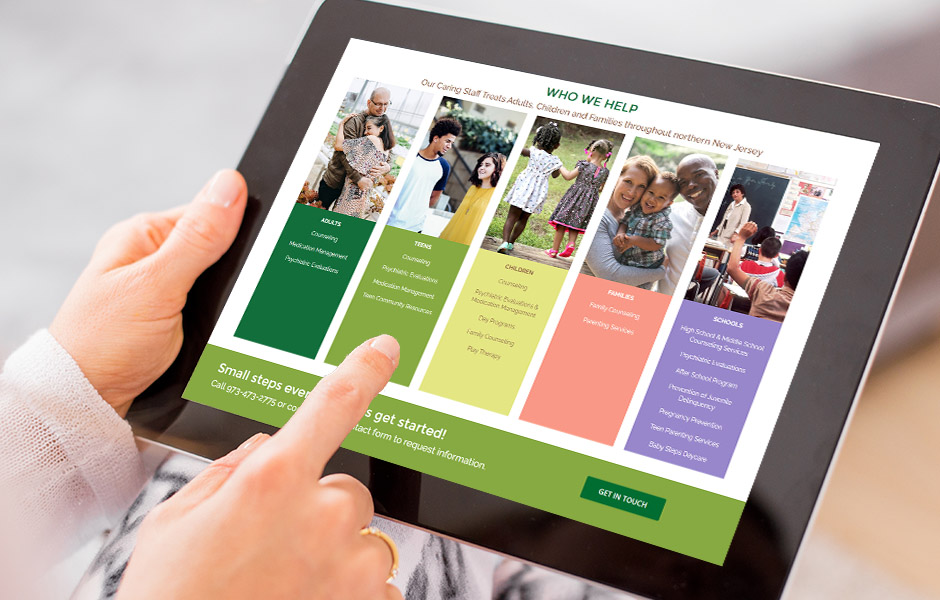 Since its launch on October 22, it became evident right away that people began finding the services they seek very quickly. Melissa Cantada, director of human resources, noted that "Within days, we saw the difference. The new website highlights some of the amazing programs we have and the full scope of the work we do. It also gives people who don't want to call and talk to us right away the opportunity to contact us through a simple form. Ten people already contacted us looking for help—five of them through the online forms—and three social work students have called us requesting information about our supervised internships. We've always accepted internship candidates but no one ever knew this about MHCP before."
In a follow-up call with the nonprofit in January 2021, Cantada reported that in 45 days the agency had over 60 inquires through their online form, a dozen internship requests, and a variety of other inquiries from potential partners and referral sources. She reported that the agency's board of directors are extremely pleased with the results.
Lynn Gregorski, president of Rapunzel Creative, said that, "I have a family member battling mental health issues and from a personal level I understand the importance of having affordable services available. I commend MHCP for going forward with the project at height of pandemic; they saw the real need in the community, and built the site at a time when,now more than ever, so many people are seeking mental health support. MHCP now reaches more people who have not had access to mental health services before or easily. We are so proud to have helped the organization position itself to make a bigger difference than ever before in the community."
You can see our work for this New Jersey non-profit organization at https://mhcp.org. If you'd like to make a donation to support its vital work, visit https://mhcp.org/donate.
About Rapunzel Creative
Rapunzel Creative is an award-winning branding, digital marketing, and advertising agency located in Bergen County, New Jersey, within the New York metro market. Services include business branding, website design, digital marketing (such as social media, SEO, and email marketing) and advertising campaigns. The agency also specializes in nonprofit marketing and branding. Rapunzel Creative is certified by the State of New Jersey as a (WBE) Women Business Enterprise, is a WBENC certified organization, and is a certified SBA and WOSB and approved contractor with the Port Authority of New York and New Jersey.