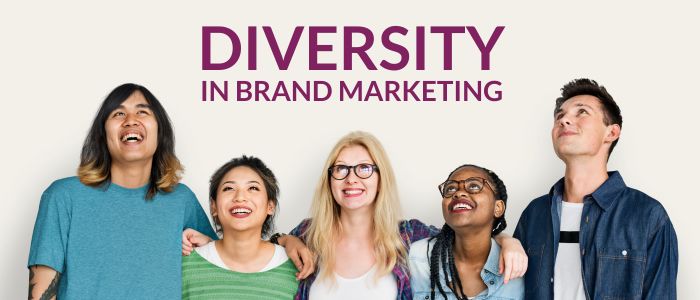 Diversity in Brand Marketing
Diversity, equity, and inclusion (DEI) are top of mind for many businesses. Due to misuse or overuse by brands in their marketing, they could eventually become buzzwords or a tired cliché. However, as DEI becomes more important to consumers, it is just as important for brands to include diversity in their marketing.
What is DEI?
Diversity, equity, and inclusion are closely linked values. When organizations incorporate them into their culture, these values show up as inviting (inclusion) more people (diversity) into your brand's tent with fair treatment (equity) for all.
Diversity refers to different groups of people across abilities, neurodiversity, races, ethnicities, genders, sexual orientations, and religions. Ages and body types are other ways to express and feature diversity.
Equity is the fair treatment for all people. In the workplace, it refers to a company's norms, practices, and policies that are in place—and that someone's identity does not predict opportunities or outcomes.
 Inclusion ensures that different types of people are represented—in this article, we mean including them in your marketing.
Diversity, inclusion, and your target audience
How does your advertising look to your target audience? Or rather, do your advertising and marketing materials reflect your audience? It's becoming clearer that DEI needs to be incorporated into your brand's advertising and marketing.
Consumers are savvy and younger consumers especially want to do business with brands whose values align with their own. 5W Public Relations' Consumer Culture Report revealed that 83% of millennials feel that it is crucial that the brands that they choose to support align with their values. According to a NewsCred study (cited in Influencer Marketing Hub), 88% of marketers feel more diversity in advertising images would help their brand's reputation. Influencer Marketing Hub also reported that 38% of consumers are more inclined to trust brands that effectively embrace diversity in their advertising.
DEI in brand marketing
Statistics tell a quantitative side of the story. Qualitatively, using inclusive content (messaging, images, your digital marketing, etc.) helps connect consumers with your brand because it makes your storytelling more authentic.
At Rapunzel Creative, we often counsel our clients to show real people as much as possible in their ads and on their websites—and if using stock images, to include a variety of people across ages, ethnic groups, and other categories of diversity. This is very true of our nonprofit clients who serve truly diverse communities. People want and need to be seen; brands that communicate that inclusivity are not only inviting the audience to explore what's available, they're helping them to see that the products or services are designed for them.
Digital marketing tip: make sure your website is ADA compliant and accessible for people with disabilities.
Add diversity to your marketing. And your team.
Here are some tips for diversifying your advertising campaigns and print and digital marketing:
 Integrate inclusivity into your brand marketing strategy. It shows that the voices of more people are valued and heard.
Don't go overboard; find the right balance. You don't want to come off as trying too hard; even the most well-intentioned effort can be perceived as inauthentic.
Make sure the vignettes you show reflect current society or your audience's world.
Create culturally sensitive messaging and images.
Be aware of differences within and among various demographic groups. They are never 100% homogenous. Do your research!
Build a diverse team at your organization and be open to diverse viewpoints and opinions about your marketing.

Do the campaigns hit or miss the intended marks?
Do your team members relate to your target audience and the materials you're producing to reach that group?
Put a woman-owned marketing agency on your team
Rapunzel Creative Marketing works with businesses and nonprofit organizations on a broad array of marketing campaigns. We understand the importance of target audiences seeing themselves in a brand's ads and marketing collateral. Schedule a discovery meeting to diversify your brand strategy!
About Rapunzel Creative
Rapunzel Creative is an award-winning branding, digital marketing, and advertising agency located in Bergen County, New Jersey, within the New York metro market. Services include business branding, website design, digital marketing (such as social media, SEO, and email marketing) and advertising campaigns. The agency also specializes in nonprofit marketing and branding. Rapunzel Creative is certified by the State of New Jersey as a (WBE) Women Business Enterprise, is a WBENC certified organization, and is a certified SBA and WOSB and approved contractor with the Port Authority of New York and New Jersey.