Deliverables You Need in Your Logo Design Package
Designing a logo is the first step in creating a new brand for a business, product or service.  That logo is the foundation for creating your entire corporate identity.  Here are the important deliverables you need to obtain in your logo design package.
Basic Files:  Typically, logo files are delivered as a JPEG (picture files) and PNG files.  A PNG file is a file that provides the artwork with a transparent background. The PNG file allows you to place the logo over solid colors or images without a white box or border around the logo.
Master File: Ask for the master file of your logo.  These are typically .eps or .ai files and the master file provides designers with the capability to output the logo at any size, whether you want to place it on the side of a van or on a billboard.  Having the master file will let you make changes to the logo in the future.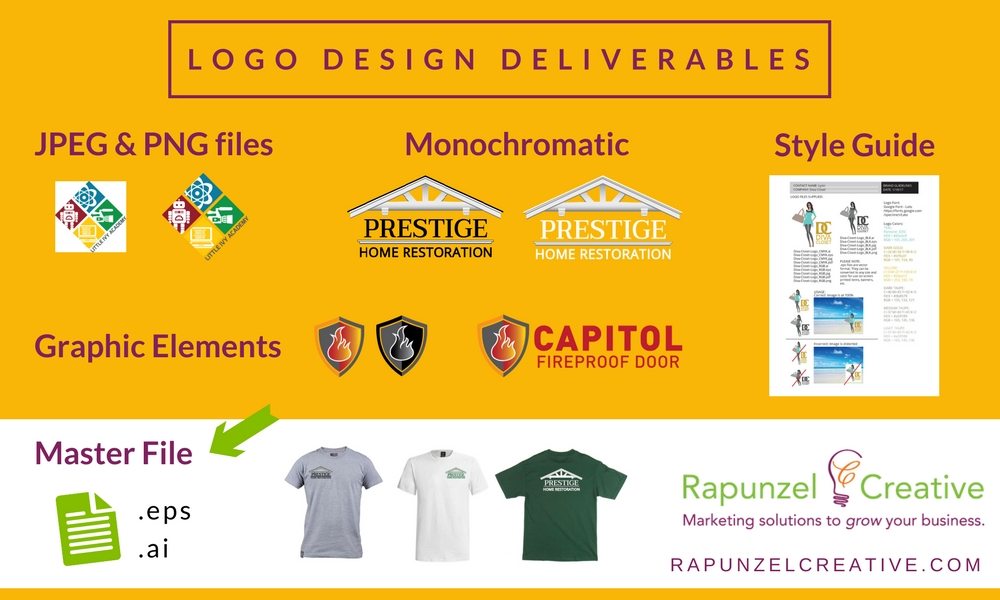 Monochromatic: Request the logo in both black and white.  This will give you the flexibility to place the logo on light and dark surfaces.
Design Element: If you have a mark, design element or icon in your logo, you will need that element separated from the logo.  This allows you to use that design as a bullet point, background or element in your marketing materials and on your website.  Ask for your company name as a separate element, if it can be used as a stand-alone and is not attached to the entire design.
Style Guide: Your logo design isn't complete without a style guide.  A style guide will give you all the color codes that make up your logo along with the fonts that are used in the text part of your logo.  Having the color codes and fonts lets you match the color and text design of your logo in Word documents and on your website.
Ready to launch a brand or refresh an existing logo?  Call Rapunzel Creative today at 877-709-3456 for a complimentary consultation.
About Rapunzel Creative
Rapunzel Creative is an award-winning branding, digital marketing, and advertising agency located in Bergen County, New Jersey, within the New York metro market. Services include business branding, website design, digital marketing (such as social media, SEO, and email marketing) and advertising campaigns. The agency also specializes in nonprofit marketing and branding. Rapunzel Creative is certified by the State of New Jersey as a (WBE) Women Business Enterprise, is a WBENC certified organization, and is a certified SBA and WOSB and approved contractor with the Port Authority of New York and New Jersey.