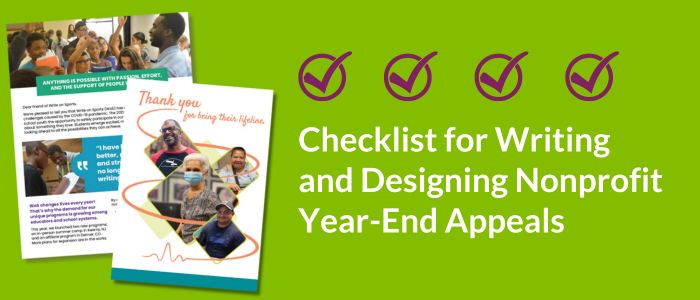 Checklist for Writing and Designing Nonprofit Year-End Appeals
A nonprofit year-end appeal is a critical direct mail marketing piece that requires care and consideration, with specific ways to write and design it for maximum impact. We offer this writing and designing checklist for nonprofit year-end appeals to help your organization garner strong ROI from this vital fundraising tool.
Writing and designing tips for impactful year-end appeals
The copy and design of your year-end appeal should be easy on the eyes and easy to follow, guiding donors to a full view of why their dollars matter—and where and how to donate. It should also make them feel good about helping your team help others.
Remember to communicate the who, what, why, when, and how of your year-end appeal:
Who will benefit
What you need in terms of dollars
Why this is needed (the stories behind your programs)
When to donate (deadline)
How to donate
Copy pointers
A key communication point: don't bury the ask. Tell donors what their donation will be spent on to make the fundraising more tangible. Is there a final push to get funds to purchase a vital piece of equipment, refurbish a building, or provide critical staffing for programs?
Avoid jargon and industry-speak; use conversational language your donors relate to and that will engage them. Most of all, speak from the heart. Donors want to feel they are solving a problem that will mean something indelible to those who need your nonprofit's services. Your copy should draw them in, with personalized messaging that addresses them (such as saying "you" rather than "our supporters."). Make them the hero of the year-end story!
Design pointers
Always include your nonprofit's visual branding—your color palette, logo, and typeface—and keep the design consistent with other materials and your nonprofit website. Choose a legible typeface that aligns with your branding and stands out on the page or screen (serif for print, sans serif for digital are recommended). Given that donors are getting older, make sure the type size is large enough for all to read.
Cross-channel marketing tips for year-end appeals
Ideally, your year-end appeal is being delivered across multiple marketing channels to enhance impact. If so, the checklist items differ for print and digital appeals (email or social media). The print version may be several pages long or have several inserts, while the email needs to be formatted differently and can include clickable links for more information. Social media posts must have a branded, high-impact image and succinct copy about the need or a donor or recipient story, with relevant links to donate.
NOTE: A distinct landing page for the year-end appeal will help drive donors to this specific need and provide another place to share the reasons behind the ask.
Writing checklists for your nonprofit year-end appeal
Print Appeal
Personal message from the CEO or executive director – let donors know how much their past support has meant and express appreciation for continued support
Clear headline, campaign theme, or statement of need

 Express the problem and the solution
Impact statement – details on programs and their impact on clients

 Provide facts and figures about how your nonprofit benefits the community. Include information on how those year-end contributions will make a difference and help solve a problem.
Annual budget – help donors understand what it takes financially to run your organization. An illustrative chart with a link to the full budget on the website works well.
Compelling stories that illustrate the difference your services provide – these stories should include background information about the client's need, how your nonprofit is providing a solution, and outcomes. Include quotes from your clients about the program. (Be careful about maintaining privacy.)
Testimonials – share positive feedback from the people your nonprofit serves
 Matching gift information
Corporate sponsorship information
Clear, bold call to action – what do you want recipients to do and how?
Donation deadline
Offer various giving levels to appeal to a broader donor base
Full contact information – website URL, how to reach the development team, where to mail checks, links for online donations
Email Appeal
Use an organization email address so recipients recognize the sender
Write an attention-getting subject line to encourage a healthy open rate
If you are using preheader text, use this "subject line subhead" to provide more context
Keep users scrolling to the "donate" buttons with straightforward subheads to break up the copy, short blurbs to introduce each section, and outbound links to relevant website pages to read more
Prominent "donate" buttons
Design checklist for your nonprofit year-end appeal
Design elements to include:
Personalization fields – make this personal to each donor; address them by name
Use bold and italic fonts for emphasis, use different fonts for subheads and headlines to draw the eye, divide copy blocks, and make the piece easy to skim
Put the problem, solution, the ask and other essential points "above the fold" in emails
Design the appeal in chunks with plenty of white space between and around copy blocks

Keep paragraphs short, use bullets and colorful icons to highlight important points
Use callout boxes to highlight photos, graphics, or short copy points
Photography – we strongly advise you to use photos of real clients and/or staff members to support your storytelling whenever possible
Charts or graphs, infographics to illustrate budgets, spending, program impact, and more  in a colorful, bold way
QR codes efficiently send mobile device users to the donation page
Prominent "Give Now" or "Donate" buttons on email
Design a separate pullout donation form for print with fields for credit card information and the sender's contact information
Embed videos in email; include links to the videos in the print appeal
Insert donation buttons in several places in the email version to give people ample opportunities to act, and as a graphical way to break up copy blocks and different kinds of content (stories, infographics, impact, etc.)
Self-addressed envelopes
 Put Rapunzel Creative on your year-end appeal checklist!
As a leading nonprofit marketing agency, Rapunzel Creative works with nonprofits throughout New Jersey and the New York metro market (you can see some of our work here). Let's set up a call to discuss how our award-winning team will create an impactful year-end appeal for your organization.
About Rapunzel Creative
Rapunzel Creative is an award-winning branding, digital marketing, and advertising agency located in Bergen County, New Jersey, within the New York metro market. Services include business branding, website design, digital marketing (such as social media, SEO, and email marketing) and advertising campaigns. The agency also specializes in nonprofit marketing and branding. Rapunzel Creative is certified by the State of New Jersey as a (WBE) Women Business Enterprise, is a WBENC certified organization, and is a certified SBA and WOSB and approved contractor with the Port Authority of New York and New Jersey.