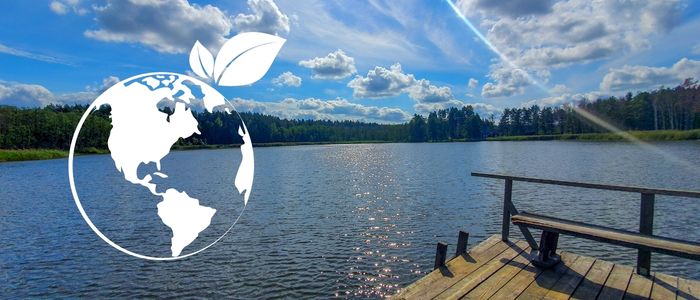 Case Study: Marketing Communication Campaign for New Jersey Lake Community
The Challenge: Motivate local residents to take action
A New Jersey borough engaged Rapunzel Creative Marketing to create a consumer-awareness ad campaign about the importance of maintaining septic systems and avoiding ground chemicals to keep area lakes healthy and clean. The campaign theme is "Make Healthy Lakes a Shore Thing."
With four lake communities in the borough and waterfront recreation a major part of summer fun, the threat of high algal bloom (HAB) is a seasonal problem that results in lake closures. HAB is caused by contaminated runoff (from chemicals and septic system leaks) combined with high temperatures; the blooms can cause severe health problems for humans and area wildlife, including extensive fish kills.
The Strategy: Healthy Lakes Campaign with Cross-Channel Marketing
The concept behind the campaign is to keep the local environment safe and healthy so that the lakes are open all summer and available for all residents to enjoy.
The Rapunzel Creative team created a cross-channel advertising and marketing campaign focused on two initiatives: the importance of maintaining and pumping homeowners' septic tanks and avoiding harmful chemical fertilizers that pollute groundwater.
A campaign-specific web page, branded with the campaign tagline, was created; it provides important educational information and helpful tips for residents about the dangers of high algal bloom, with content that explains why septic tank pumping/maintenance and a switch to natural fertilizers are so vital to maintaining healthy lakes.
Two direct mail pieces were sent (via EDDM) to every home in the New Jersey borough, with the campaign QR code and URL that brings residents to a custom-designed landing page.
A Facebook & Instagram ad campaign was created to support the direct mail and the messaging on the web page
LED signs in two borough locations carry the messaging and URL as well.
The Results
Over the 60 days, the Facebook and Instagram campaigns garnered 64,500 impressions and an 8.8% Unique Click Through Rate (Unique Link Clicks / Reach) at a $1.89 Cost per Unique Link Click. The video completion rate was 5.4%.
In addition, the two direct mail postcards sent three weeks apart, generated trackable visits to the landing page.
Contact Rapunzel Creative for your digital marketing
To get started on your digital marketing campaign—or to explore how these channels can boost your brand—schedule a marketing consultation or a short introductory call with Rapunzel Creative today.
About Rapunzel Creative
Rapunzel Creative is an award-winning branding, digital marketing, and advertising agency located in Bergen County, New Jersey, within the New York metro market. Services include business branding, website design, digital marketing (such as social media, SEO, and email marketing) and advertising campaigns. The agency also specializes in nonprofit marketing and branding. Rapunzel Creative is certified by the State of New Jersey as a (WBE) Women Business Enterprise, is a WBENC certified organization, and is a certified SBA and WOSB and approved contractor with the Port Authority of New York and New Jersey.