5 Steps to Branding Your Tech Startup
The ever-evolving technology scene creates an interesting dichotomy of old and new: while tech companies are part of a fresher, booming industry, they must still utilize the longstanding traditions of solid branding to launch and succeed. Today, the tech boom has expanded far past Silicon Valley; Newark, Princeton, and other regions of central New Jersey — along with Hartford, Connecticut — are quickly becoming bustling tech hubs, so the need to properly market your startup and build your brand is fierce and imperative, now more than ever.
The principles for branding your business are often similar across occupational fields, but what separates the branding for a tech startup? As a tech innovator, you've already got the golden idea to change the way people work, travel, or exercise. Now, learn how to build your brand in the competitive tech scene to solidify your audience and increase your following.
Position Yourself Wisely
Your app or company is more than just its ideas: as a tech startup, you also need to have the savvy to creatively and effectively position your business. The tech scene is saturated, so what makes your product unique is both its greatest strength and most marketable tool. Founders need to identify why their innovation is different and what advantages it offers in the marketplace. Once you hone in on what separates your service, you can establish its niche and enjoy a competitive advantage.
Make Your Brand Unmistakable
In real estate, it's about location, location, location — but in a crowded tech scene, it may be all about singularity, singularity, singularity. When wondering how to build a brand, create a central and distinctive theme that unites your work, mission, and product. Even for a company as new as TaskRabbit, its rabbit symbol is now impossible to mistake. In the tech sector, which so relies on advertising in the digital landscape, your brand build should holistically interweave the impact of your iconic logo alongside the grace notes of its styling, colors, and fonts.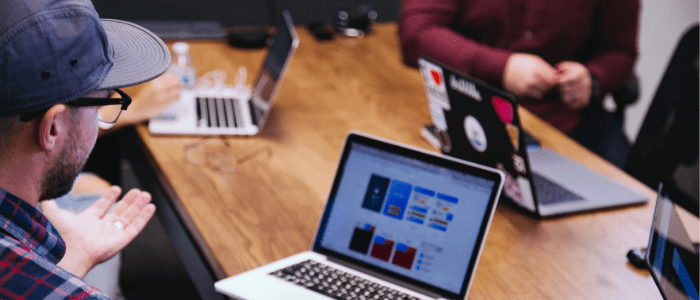 Pause Before Launching
Getting your app out in public can be time-consuming and exhilarating. But in all the excitement to launch, many steps are forgotten, not the least of which is brand development. Is the tone consistent in your messaging? Does your logo appear in all the necessary places? And do you have customer service staff at the ready? In today's breakneck culture, users expect service at the click of a button. As Hubspot notes, "Attempts to improve results without customer feedback often leads to fine-tuning things that customers don't care about. Ultimately these startups run out of money before they discover what was missing: brand experience."
Establish an SEO Strategy
How are you going to float to the top of customers' searches? For tech business branding, a strong website and SEO strategy is critical from the get-go. Once you cement your corporate branding, learn what keywords your audience is searching for. Entrepreneur recommends business branding leaders "define their idea of a successful campaign, whether that be in terms of newsletter signups, white paper downloads, or product purchases; and measure efforts against that monthly benchmark." This is all a part of building a brand: it's not just the logo and color scheme, but also discovering the most efficient ways audiences can find, utilize, and enjoy your creative services.
Keep the Content Flowing
Now that you've launched your product, app, or website and established your brand, you need to continue promoting it. Give viewers a reason to further explore your social media pages or website by creating engaging content that is specific to your small business. Perhaps you have employee blogs or multimedia showing off the inner workings of your product and office. Whatever it is, make it thematically on point with your messaging so you achieve brand recognition. Looking for further ideas? Per Forbes, "Long form content works best and the most valuable content addresses common customer issues." Customers, as always, should be your north star — see how they are engaging with your content, learn about their habits, and use your findings to propel your business.
In conclusion, it's crucial to remember that having a stellar idea for a new startup is only half the battle; the other necessary element is your corporate branding. How your customers interface with and find your tech company is as important as its singular style. Your ideas are original, and your branding should be too.
Rapunzel Creative is a branding and strategic marketing agency that helps companies build innovative brands and drive sales through results-driven campaigns, digital marketing and advertising. Set-up a complimentary assessment for your tech startup's brand through the online scheduler or give us a call at 877-709-3456.
About Rapunzel Creative
Rapunzel Creative is an award-winning branding, digital marketing, and advertising agency located in Bergen County, New Jersey, within the New York metro market. Services include business branding, website design, digital marketing (such as social media, SEO, and email marketing) and advertising campaigns. The agency also specializes in nonprofit marketing and branding. Rapunzel Creative is certified by the State of New Jersey as a (WBE) Women Business Enterprise, is a WBENC certified organization, and is a certified SBA and WOSB and approved contractor with the Port Authority of New York and New Jersey.