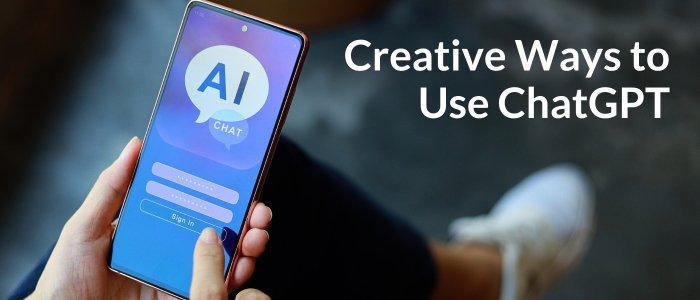 3 Creative Ways to Use ChatGPT for Your Business Content Creation Process
AI is all the rage. You can't open a social media app, an online magazine, or write an email without being presented with opportunities to use AI in your business.
Examples in daily life include predictive text for Google Search, email spam filters using AI to direct emails to designated inboxes, chatbots on websites, and virtual assistants such as Siri and Alexa. AI is also used in website personalization, recommendation engines, and search engines.
The old adage, "Work smarter, not harder" comes into play when we start using AI for a variety of business-related tasks.
In this article, we explain more about AI and ChatGPT and share ways you can use AI for your business content creation process.
What is ChatGPT? A definition by… ChatGPT
I asked ChatGPT to describe itself. Here is what it came up with:
"I am ChatGPT, a language model powered by OpenAI's GPT architecture. I am designed to understand and generate human-like text in response to natural language input.
As a language model, I can perform various tasks, such as answering questions, completing sentences, summarizing text, and generating text based on given prompts. I have been trained on a large dataset of diverse text, which allows me to generate responses that are both informative and relevant to the input I receive.
My primary function is to assist users in generating natural language text in a conversational manner. I can be used in a variety of applications, such as chatbots, virtual assistants, customer service, and more. I am constantly learning and updating my knowledge based on the data I am trained on, which allows me to generate more accurate and relevant responses over time."
We are pretty impressed with its own description!
Using ChatGPT for Content Creation
ChatGPT has changed how we look at and use AI for work, including content creation.
Some marketers started referring to ChatGPT as their "junior editor," as it can write any and all types of content you might need in your day-to-day life as a content creator. This includes web content, social media content, emails, and more.
The one thing to know about ChatGPT before you start using it for content creation is that it's only as good as the prompts you give it. To get the most out of any AI tool you need to be concise, specific, and direct when inputting prompts.
To that end, the newest social media job, created due to the demand for AI, is prompt engineer. We believe this is only the tip of the iceberg of what's to come as the world embraces AI.
For now, let's get specific and share three creative ways you can use ChatGPT right now for your business content creation process.
Ways to Use ChatGPT: Generate Ideas and Content Research
You can ask ChatGPT anything. If it doesn't know the answer, it will tell you!
If you do not know what you want to create, you can start by requesting general information such as:
Blog ideas for a software company that serves defense contractors
Video ideas for a local restaurant serving Sunday brunch
Ideas for social posts for a nonprofit children's foundation
Home security tips to use on social media
When you ask ChatGPT general questions, don't accept the first answers. Dig deeper. Ask ChatGPT follow-up questions about a specific idea, and ask for "five tips," "more background," or "I like these tips but they are too general". The more specific you get with prompts, the better quality business content ChatGPT will produce.
ChatGPT can also produce content from keywords you feed it, as long as you are specific about who is writing and who you are trying to reach. Here is a  content creation prompt example that uses targeted keywords:
"Write a paragraph pretending to be a soccer mom. Your goal is to convince moms in X geographical area to sign their kids up for a fun soccer rec league that plays at Y fields. Use the words 'Saturday games,' 'exercise,' 'kids activity,' 'afterschool activity,' 'rec soccer,' 'soccer club,' and 'fun with friends' in the copy."
Ways to Use ChatGPT: Write All the Things
ChatGPT can write anything a human can write. That includes:
Articles
eBooks
Books
Social media posts
Web content
Flyers
Research papers
Book reports
Invitations
Sales copy
Advertisement
Emails
Invoices
Checklists
To-do lists
Descriptions
Manuals
And the list goes on. Sounds fantastic, right? It is, for the most part. However, be cautious.
Treat ChatGPT as your junior copywriter as it will make mistakes. You will need a human to read, edit and revise any and all copy as part of your business content creation process. However, using ChatGPT as your junior copywriter to start creating that business content is sure to save you lots of time, and eventually, money.
Ways to Use ChatGPT: Restructure, Summarize, and Repurpose
You might have heard that when ChatGPT came out, new tools to detect it in content came out almost simultaneously. Why?
Because employees and students were using ChatGPT the wrong way—just copying the content without editing and adjusting it. That is the wrong way to use ChatGPT!
Instead, use ChatGPT a) for business content creation and edit it to reflect brand voice, include brand-specific information, or add flair to what may be somewhat flat "out of the box," and b) to restructure, summarize and repurpose content you have already written yourself.
Do you have a podcast? Use ChatGPT and the audio transcripts to create tweets and social copy.
Do you create videos? Use ChatGPT and the video transcripts to identify the best content to create short clips.
Did you write an eBook? Use ChatGPT to create a one-page free download to put on your landing page to grow your email list.
Do you have a blog? Use ChatGPT to create social posts from the blog copy. Ask ChatGPT to come up with ideas to turn that one blog post into a series.
This list can go on and on! Any content you already have can be repurposed with ChatGPT to be published over and over and over.
About Rapunzel Creative
Rapunzel Creative is an award-winning branding, digital marketing, and advertising agency located in Bergen County, New Jersey, within the New York metro market. Services include business branding, website design, digital marketing (such as social media, SEO, and email marketing) and advertising campaigns. The agency also specializes in nonprofit marketing and branding. Rapunzel Creative is certified by the State of New Jersey as a (WBE) Women Business Enterprise, is a WBENC certified organization, and is a certified SBA and WOSB and approved contractor with the Port Authority of New York and New Jersey.