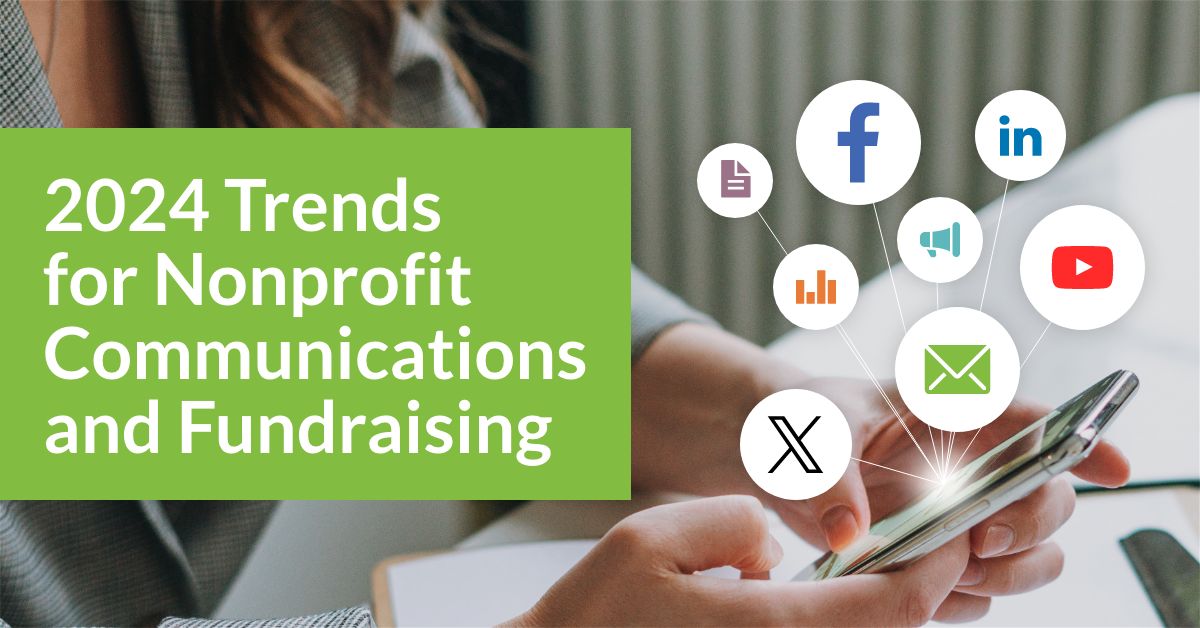 2024 Emerging Trends in Nonprofit Communications and Fundraising
Nonprofits must rapidly adapt and evolve to fulfill their missions. Donors and other constituents are becoming more digitally aware and sophisticated, and they have high expectations of engaging with their favorite nonprofits on personalized terms. Therefore, today's nonprofit professionals must be highly technical and data-driven, and more attuned to the needs of their donors. As we move into 2024, we share nine trends that are shaping how nonprofit organizations are communicating with donors to achieve fundraising goals.
Rethinking Traditional Nonprofit Fundraising Models
A debate is ongoing within the sector about the long-term effects of traditional fundraising models such as moves management and the donor pyramid. Some believe that these models have been detrimental to forging trust and building closer partnerships with donors. Recent statistics such as rising donor turnover and diminishing philanthropic activity seem to support these arguments. New models that cultivate donors according to their long-term engagement value rather than donation amount are becoming more prevalent.
Automation via Technology Platforms
Generally, nonprofits have been quick to adapt to online platforms, social media, email marketing, and virtual fundraising tactics. At the same time, so-called "marketing with a megaphone" is becoming obsolete in favor of hyper-personalized communications and outreach. Tools are now being employed in conjunction with artificial intelligence (AI) software, allowing cultivation and stewardship cycles to be managed with automation. A personalized touch can be triggered automatically by a specific donor engagement or change in the donor's journey map. Of course, these tools must be supported as part of a robust "tech stack," usually anchored with data-driven CRM software (such as Raiser's Edge, Salesforce, Charity Engine, and others).
Data-Driven Decision-Making
Nonprofits are harnessing the power of data analytics to make informed decisions. They are using donor data to segment audiences, create personalized fundraising strategies, target specific demographics, and track the success of their campaigns. Predictive modeling helps to score prospects and donors according to numerous data points, and these analytics allow for more meaningful and efficient cultivation efforts.
Storytelling and Visual Content
Effective fundraising relies on making emotional connections, and the most successful nonprofits share compelling stories that resonate with donors—on their websites, in their appeals, and in their cases for support. To enhance these stories on digital platforms, AI tools increasingly are being used for copywriting (such as ChatGPT) and image generation (such as Bannerbear). Well-produced video content also has become a necessary storytelling device.
"Video helps bring our nonprofit's message to more people and speaks directly to our target audiences. By placing professionally produced videos on our website, we are able to more easily promote our services and the value we provide to both the consumer and healthcare communities."  -Ginine Cilenti, Diabetes Foundation
Sustainability and Impact Reporting
Donors are becoming more conscientious about where their money goes and the impact it makes. Nonprofits are responding by emphasizing transparency and sustainability: providing detailed impact reports, showcasing the tangible results of their programs, and demonstrating responsible stewardship of resources. Sustainable practices in fundraising, such as reducing paper waste through digital receipts, are also gaining traction.
Cybersecurity and Donor Privacy
With the rise of digital fundraising comes an increased focus on cybersecurity and donor privacy online. To promote trust with their constituents, organizations must balance transparency and openness against a critical need to safeguard sensitive information about their programs and donors. Accordingly, nonprofits are investing in secure online payment systems and other robust data protection measures such as encryption and access controls.
Virtual Events and Hybrid Fundraising
The COVID-19 pandemic accelerated the adoption of virtual events, and many nonprofits have continued to incorporate them into their fundraising strategies. Hybrid events, which combine in-person and virtual elements, are becoming the norm, allowing organizations to engage with a broader audience while accommodating those who prefer remote participation.
Inclusivity and Diversity
While most nonprofits highlight the diverse communities they serve, an increasing number acknowledge that they also need to promote diverse voices within their walls. Advancing racial and gender equity throughout the organization has become critical to achieving positive societal outcomes. Some prominent national organizations have gone as far as eliminating minimum gift amounts for board members. They recognize that more leadership voices are needed at all levels of giving. This internal inclusivity not only promotes social justice, it also strengthens community support.
Partnerships and Collaborations
Nonprofits are increasingly partnering with like-minded organizations and businesses to amplify their impact. Collaborative efforts enable them to share resources, access new audiences, and create innovative fundraising campaigns. These partnerships can be a win-win, advancing their shared goals and benefiting all parties involved—and donors love to see collaboration!
On-Trend Marketing Services for Nonprofits from Rapunzel Creative
By staying attuned to and adopting these trends, nonprofits can effectively transform their communications to connect with their supporters more strongly, enhance their fundraising, and make a lasting impact upon the causes they champion.
Contact us for a conversation and let's create positive change together!
About Rapunzel Creative
Rapunzel Creative is an award-winning branding, digital marketing, and advertising agency located in Bergen County, New Jersey, within the New York metro market. Services include business branding, website design, digital marketing (such as social media, SEO, and email marketing) and advertising campaigns. The agency also specializes in nonprofit marketing and branding. Rapunzel Creative is certified by the State of New Jersey as a (WBE) Women Business Enterprise, is a WBENC certified organization, and is a certified SBA and WOSB and approved contractor with the Port Authority of New York and New Jersey.