Project Description
Ambassador Resources, a growing recruiting and placement firm in Lyndhurst, NJ, needed website design services and refined marketing messaging to focus on the value it delivers as a talent search firm with a client-centric approach. The existing website did not accurately reflect Ambassador's core specialty areas, nor convey its consultative approach to talent search and placement.
Co-founder and co-managing partner Joe Carrabs said "We needed a website that reflects who we are, how we work, and the industries we serve. The new website conveys our consultative approach to talent recruitment very clearly and provides all the information employers and job candidates need to know about us."
"We know that employers vet us before engaging our services; we needed a professional online vehicle for prospective clients to find and learn about Ambassador Resources easily," said co-managing partner Matt Kurz.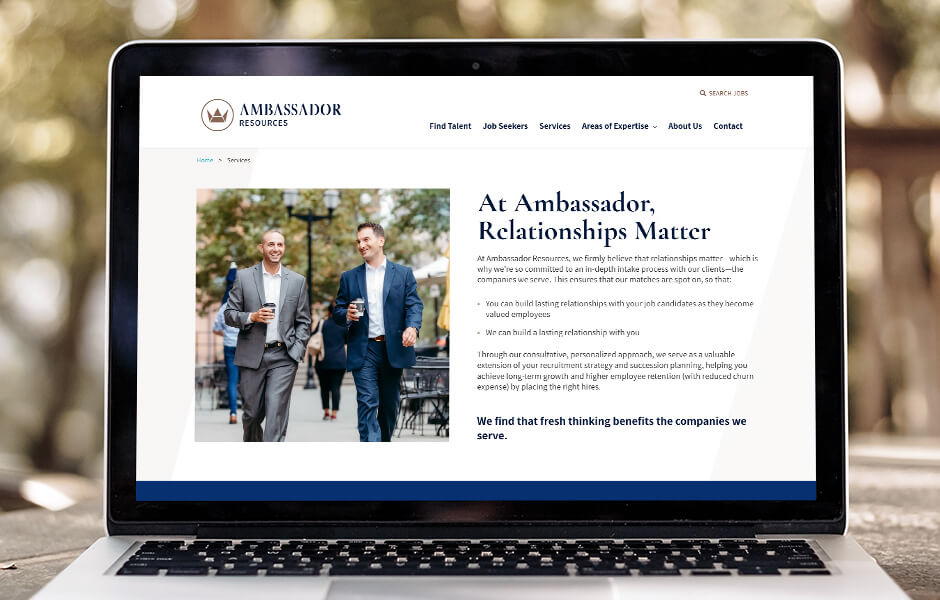 The new website was launched in mid-November 2021 to celebrate the firm's official grand opening and year of growth. As part of the brand refresh, we also updated the company logo to give it a stronger brand identity while also retaining the original crown design that incorporates an "A" in the artwork.
"We know that employers vet us before engaging our services; we needed a professional online vehicle for prospective clients to find and learn about Ambassador Resources easily," said Matt. "The new website shows our specialty areas and our philosophy about recruiting—finding the right people for the right role—very clearly and we're excited about this formal business launch."