Re-energize your business with coaching! 
Small businesses get stuck. We help you get back on track.
Rapunzel Creative's Business Coaching helps owners of small businesses and self-employed people with their overall business strategy including sales, marketing, management, and finance. We evaluate where your business is now and help you build a roadmap for where you want to be. Increase your product and service reach and build your revenue. Improve your operations, sales and apply new marketing tools.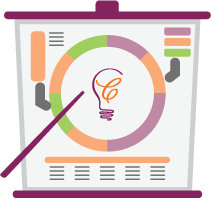 Improve Brand and Messaging
Start a new business with Rapunzel's coaching!

Reap the rewards of being your own boss with. Make your own hours.
Do what you love!
Successfully starting a new business means being prepared. Understanding how to create and effectively use a business plan is your key to success. So many businesses fail in the first year or two. Rapunzel Creative can help you avoid the pitfalls of being self-employed or starting your own business. We will help you build a realistic business plan that will help you project how launch, run and grow your business.
Here are some of the Do's of starting your own business:
Do what you love to do.
Set aside enough money for your start-up.
Set aside additional funds to support you in the early months of launching your business.
Find a local mentor in the same field.
Buy wholesale.
Survey the marketplace.
Have an exit strategy.